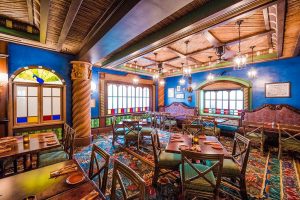 Our team of experienced craftsman and artisans are skilled in the latest installation techniques. BYXS Commercial offers turn-key service; materials, fabrication and installation. Our team is available regionally to perform full fabrication and installation on any size project. All of our installations carry a full one (1) year warranty for craftsmanship.
Have the team in place already, but don't have the experience and know how to work with our materials? We also offer project management and on-site training services to guide your team throughout the fabrication and installation process to ensure successful delivery of your project.
Self-performing the installation, but have questions? Our team of experts is available to guide you through the process providing our installation techniques and trouble shooting.
What We Install
BYXS Commercial can help you with thatch installation, bamboo installation and any other product you purchase from us. We install all our:
Our experienced professionals will install with courtesy and expertise at your place of business.
A One-Year Warranty on Craftsmanship
BYXS Commercial's one-year warranty on craftsmanship provides added protection. Professional installation offers your business more protection, because how products are added to your existing property matters when it comes to warranties, codes, requirements, and ultimately, your liability. BYXS Commercial experts can ensure your newly renovated business space uses materials and installation practices that are up to code and used in a way that protects your warranty.
Minimize Disruption
Installation by professionals frees you to focus on what matters. You are not installing tropical building products on a whim. You are trying to create an ambiance to attract your best customers. When trained experts help you, you can focus on greeting guests, keeping doors open and building your business. You can work on preparing for the influx of business you may expect with your beautiful new environment.
Professional installation is less disruptive to your business. Whether you are in the hospitality industry or own a contracting firm, architecture business, design company, resort, spa, zoo or any other business, you don't want to lose revenue because you need to close your doors. Eliminate unnecessary installation problems when you partner with the pros at BYXS Commercial.
When working with BYXS Commercial, our team can review what you can expect from installation and we can offer solutions to minimize downtime. BYXS Commercial professionals plan your installation to be efficient and quick, with minimal disruption, so you can get back to more important business.
For more information about commercial installation services provided by BYXS Commercial, get in touch with us. To find out how we can help, get a free estimate, order a sample or call us at 877.625.9001.