Tropical Building Materials
When your resort, restaurant, hotel or other commercial space requires quality products to create beautiful tropical environments, tropical-themed materials such as the following from BYXS Commercial offer innovative, high-quality solutions.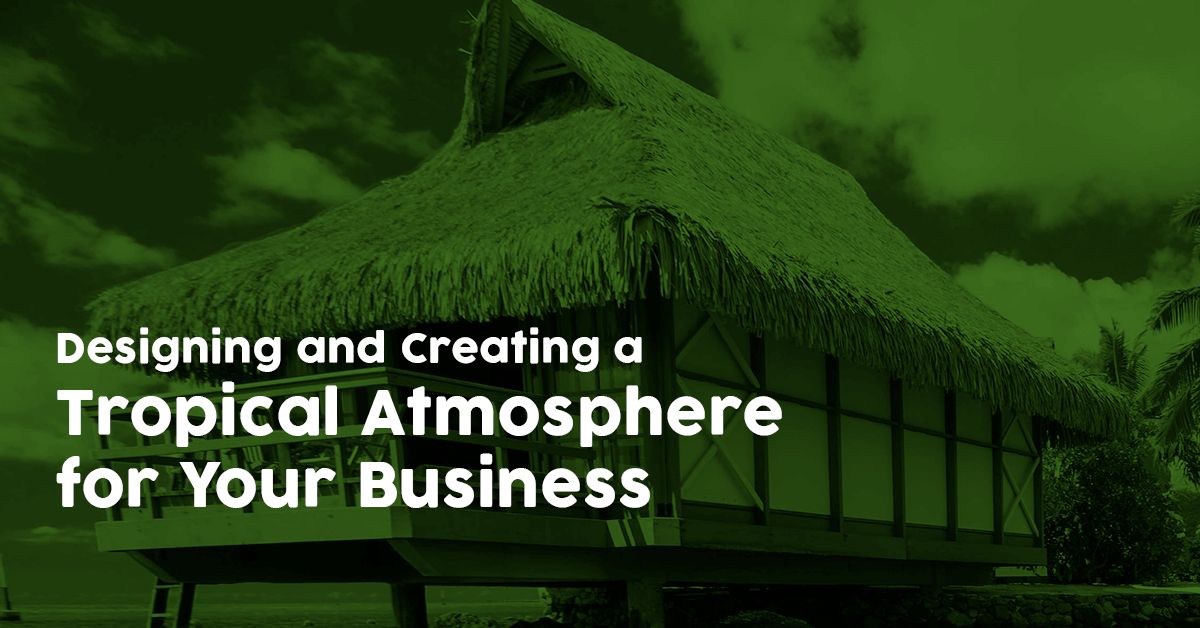 Designing and Creating a Tropical Atmosphere for Your Business
A tropical environment for your commercial property lets you better connect with customers and drive a superior experience. No matter where in the world you are, you can instantly transport guests to the palm-lined beaches, calming waters and colorful cultures of the tropics. As a property owner wondering how to increase consumer demand and appeal, consider the benefits of incorporating tropical-themed business ideas into your location.
How to Create a Tropical Atmosphere
Getting the details down is the best way to bring any themed environment to life. That extra attention to the little things, combined with the right materials and decorative features, transports guests to where you want them to go. When creating a tropical aesthetic, take these five steps to give customers a realistic island experience, even when they're nowhere near the ocean.
1. Incorporate Greenery
Palm trees, bamboo, banana leaves, orchids and hibiscus flowers proliferate in tropical locales. The warm climate, natural sunlight and an ample water supply breed lush vegetation everywhere you look. Beyond the sandy beaches, tropical islands host a thick canopy of trees, grasses and other plants. The climate conditions also produce a colorful array of flowers in bright pinks, reds, yellows and oranges. Blending natural greenery and warm-climate flowers will bring your tropical sanctuary to life.
Real plants will produce the most authentic, luxurious effect. Most tropical plants don't need a lot of care to thrive in indoor and outdoor climates. Provide enough light and water, and your tropical getaway will bloom. If your business experiences colder weather, consider cold-resistant tropical plants. Many tropical plants, including some banana trees, ferns and clumping bamboo, can withstand the cold. The impressive jelly palm, or Pindo palm, can endure temperatures as low as 5 degrees Fahrenheit. Some businesses opt for realistic artificial plants for year-round greenery without the upkeep.
2. Install Water Features
From the Caribbean Sea to the rainforest, water is central to most people's image of the tropics. Whether you're building an indoor or outdoor oasis, adding water elements will transport visitors to an island escape, no matter how far they are from the ocean.
Choose from many possibilities to give your water feature an authentic tropical look. Try a natural waterfall cascading down mossy stones for a rainforest aesthetic. Even a simple fountain using stone or artificial wood will contribute to a high-end tropical experience. Or, consider water fountains shaped like tropical wildlife for a more whimsical take. Complete the look by planting plenty of tropical vegetation around your water feature.
Another way to bring the tropical atmosphere alive in an indoor environment is to install a fish tank. Visitors can imagine snorkeling along a coral reef with a colorful array of tropical fish. A fish tank can present more decoration opportunities with underwater greenery and coral on full display. Add tiki-themed fish tank decorations for some extra flair.
3. Create Authentic Shade Structures and Architectural Elements
Tropical weather brings endless sunny days and cloudless skies. As a result, local architecture builds plenty of shade into their designs. It's common to see thatched roofs and palm leaf or reed umbrella kits littering island resorts and restaurants. Creating a realistic atmosphere requires using the same building materials used in tropical destinations. Consider bamboo and woven thatch or matting made from the local vegetation. Natural materials will achieve the most realistic look, while artificial materials offer enhanced durability and maintain the desired effect.

4. Set the Mood With Lighting
When designing lighting for your tropical paradise, a warm, neutral color palette is crucial. Soft, warm lighting should reflect white sandy beaches and the natural tan of thatch and bamboo. Depending on the desired effect, you might also incorporate colored mood lighting to channel a blue lagoon.
Both indoor and outdoor spaces can complete the tropical look with tiki torches. Outdoors, you can bring real tropical warmth with a fire pit. For interiors, you might prefer to light your torches with artificial flames or warm-tinted light bulbs. For a more upscale appearance, consider chandeliers and other lighting fixtures made from woven reeds.
5. Accentuate the Space
The final touch to bring a tropical environment to life is the decorations. Bringing in furniture and accents made from bamboo or eucalyptus makes your environment usable while tying the tropical vibe together. For some businesses, the decor might entail tiki heads, coconuts and staff dressed in Hawaiian shirts. Other companies might use tropical print wallpaper and bamboo rugs.
Another way to accentuate a tropical experience is by engaging the senses. A restaurant could play calypso or reggae music or even include a stage for a live steel drum band. Meanwhile, a tropical spa might soothe guests with rain or wave sounds. To truly immerse guests in the experience, a zoo might incorporate a rainforest soundscape with parrot and toucan calls.
Applications for Tropical Atmospheres
Choosing how to build an atmosphere with tropical materials depends on the setting. Some businesses want to create an elegant, natural theme, while others want to recreate a colorful, exotic environment. The execution depends on the desired effect and the business' purpose. Many establishments can benefit from a tropical theme.
Restaurants
Tropical cuisine is a fan favorite, no matter how far from the equator. Between Caribbean jerk chicken and Hawaiian poké bowls or a casual juice bar, the perfect complement to island cuisine is a tropical atmosphere. Whether your restaurant is feet from the beach or miles inland, guests will appreciate a chance to escape to the tropics year-round.
With delivery and meal kits becoming increasingly popular, restaurants must create dining experiences worth coming out for. According to the National Restaurant Association, 63% of consumers would rather spend money on experiences than items. A tropical paradise is a perennial favorite themed dining experience.
A tropical-themed restaurant can enhance their atmosphere with specialty dishes or exotic fruit garnishes. An upscale restaurant might incorporate bamboo flatware, while a tiki bar might serve drinks in coconut shells.
Hotels
Hotels and resorts bridge the line between luxury and relaxation in their decor. For hotels at popular destinations, an upscale tropical design is fitting. With many tropical-themed hotel design ideas to choose from, the architecture must promote quality and sophistication.
A focus on naturally sourced building materials will complete the look. Bamboo, eucalyptus poles and woven matting can flow from the lobby to guest room amenities. Using natural materials sourced from tropical islands ensures a lavish, trendy look and feel.

Zoos
The rainforest is well-known for its biodiversity. Many visitors' favorite animals live in the rainforest, from big cats and primates to colorful tropical birds and fish. As a result, many zoos place particular focus on their tropical wildlife. Zoos often organize their exhibits based on regions, which means many have dedicated rainforest rooms or sections of the grounds, both requiring relevant decor. Outfitting the area to replicate a tropical rainforest or safari habitat is a smart choice.
Zoos and aquariums can enhance their atmosphere by incorporating tropical building materials into exhibit design. Bamboo and eucalyptus poles are versatile building materials and safe for animals. They are perfect for fences, animal enrichment and shade structures for enclosures and observation decks.
Water Parks
The signature aquamarine reflecting off water parks' pools and attractions reminds many guests of tropical, crystal-blue waters. Water parks can play off the water connection with warm, tropical-inspired architecture. Adults and kids alike will love an imaginative tropical theme. There are many ways to use tropical building materials to enhance a water park or theme park. Bamboo fencing can liven up line areas. Thatch-roofed cabanas or tiki huts create a truly immersive environment and extra shade.
Types of Tropical Building Materials
When your resort, restaurant, hotel or other commercial space requires quality products to create beautiful tropical environments, tropical-themed materials from BYXS Commercial offer many innovative, attractive and durable solutions.
Artificial Thatch
Thatch roofing is a common sight on island paradises. While a thatch roof might incorporate one of several building materials, it usually consists of dried stems or reeds woven into a tight, water-resistant barrier. Artificial thatch is nearly identical to the real thing and offers additional benefits like pest control and a longer lifespan. We offer both traditional palm and African reed options. Our Viroreed and Viro Java are HDPE, a 100% recyclable material that does not shed, decay or grow mold. Both are maintenance-free and install as quickly as roofing shingles.
Natural Thatch
For a more authentic look, we also offer fire-rated natural thatch, including neatly tapered African Reed thatch, traditional Mexican Palm thatch and durable Tahitian palm thatch. While synthetic thatch looks great for many applications, a luxury resort or any application where guests will see the material up close can benefit from choosing natural thatch. As an added benefit, natural thatch has insulating properties to cool off the spaces underneath, improving customer appeal.
Fencing and Screening
Our fencing tropical-themed materials include solid bamboo fencing, natural eucalyptus fencing, delicate reed fencing, sturdy delta river fencing, even-toned Tonkin bamboo fencing and rich brown willow fencing, allowing for a range of applications. They're great for creating separation between spaces or walkways and can spruce up an existing chain-link fence. They're safe for use around animals, making them an excellent way for zoos to add some tropical decor while simultaneously giving animals some privacy.
Synthetic Matting
If you're looking for tropical-themed materials with an authentic appearance and a longer lifespan, our maintenance-free synthetic matting may be the solution. In interior applications, decorative woven mats add texture to walls and ceilings. You can choose from three Virosurface weaves, such as the diagonally textured herringbone weave, square-patterned bandeau weave and traditional basket weave. These HDPE Virosurface options are resistant to decay and mold, while meeting fire codes and the demands of high-traffic environments.
Natural Matting and Boards
BYXS Commercial also offers natural matting and boards for your hotel, theme park or zoo. Choose from traditional and authentic Bac Bac matting, made from banana leaves, or Lauhala matting from the Philippines, made from premium Hala leaves. For a more rigid, yet still flexible, option, woven herringbone bamboo plywood is also available. Whatever weave or material you choose, the genuine materials will add style and elegance to your upscale interior designs.

Bamboo
When building from scratch, use our selection of quality bamboo for trim, batten, wainscoting, cladding and many other interior applications and exterior designs. Choose from solid Tam Vong bamboo, aesthetically pleasing Tre-Gai bamboo, pliable Tonkin bamboo poles, bamboo slats and trim, textured Guadua bamboo poles and bamboo tambour paneling. Customers will instantly recognize the use of bamboo and feel like they are in a tropical destination.
Eucalyptus Poles
BYXS Commercial also offers pressure-treated eucalyptus poles for indoor and outdoor architectural applications. These poles and beams are highly desirable for commercial settings because eucalyptus, classified as a hardwood, grows naturally without much tapering. It's ideal for structural beams and columns, yet its natural appearance makes it project-ready and eliminates the need for additional finishing. The wood adds a tropical aesthetic to boost customer demand.
Umbrella Kits
Our natural and synthetic umbrella kits include tubular reed and shaggy palm styles, popular at many resorts, spas and restaurants with outdoor seating and amenities. We can determine which kits are suitable if you require a Class A fire rating. Umbrellas range in size from 7 feet to 16 feet and are appropriate for exterior spaces. Umbrellas resembling traditional thatched roofs will improve outdoor experiences by providing cool shade and authentic tropical designs.
VIRO Domes
A creative and unique solution for shade structures and revenue-producing spaces, the VIRO Dome adds intrigue, texture and shade to any outdoor space. This product is a freestanding, static or temporary woven structure intended as a fresh alternative to tents, umbrellas, cabanas and other shade structures. The VIRO Dome features woven HDPE and schedule 40 aluminum, and is available in Class A fire-rated or non-fire-rated versions. Customize the size, style, weave and color to meet your needs and project application.
Increase Customer Demand and Appeal With a Tropical Paradise
Tropical commercial building materials add to the customer experience. 
A theme can draw more customers through the novelty, and a tropical atmosphere 
instantly
 invokes feelings of warmth and relaxation
. 
Differentiation: 

Many business owners use motifs to differentiate experiences or become a destination

. 

While tropical themes sometimes convey a local spirit, they can also help attract new customers

. For instance, an eatery with outdoor dining along a busy street might use a tropical theme to stand out. Bamboo paneling or a thatched-roof awning can add an eye-catching flair to tie the look together. 

Increased sales: A theme adds value to your brand and turns your regular services into an exciting experience. A well-executed atmosphere can justify higher prices and encourage visitors to return. For example, a hotel can incorporate genuine eucalyptus millwork or natural Lauhala matting into their ceilings to add beauty and a luxurious tropical feel to the destination. The effortless blend of tropical themes and high-end appeal can entice guests to return on their next trip.
Stronger bonds: For many destinations, a motif acts as a form of branding. That's even more true with a tropical atmosphere, which can invoke strong, positive emotions for customers. People associate the tropics with carefree living and vacation destinations. A restaurant can conjure those same feelings and make dining more enjoyable with a tropical theme.
Visitor appeal and retention: Themed environments allow for a controlled experience. The positive feelings visitors have about particular themes become associated with the attraction. They're likely to stay longer in a themed environment. This benefit is especially essential in a water park, a business that earns more revenue from guests who stay longer. A water park can contribute to a tropical theme through thatched-roof tiki huts and dining areas. Themed umbrella kits and VIRO dome shade structures can lengthen guests' stays even more by providing comfort.
Enhanced experience: Themes let businesses create an identifiable world within their spaces. Themes can tell stories and immerse guests in something both familiar and exotic. From the moment customers enter an area, they begin living the experience, even before the true service offering begins. This ability can be particularly useful in a zoo, where the atmosphere immerses guests in the animals' natural habitats. For example, zoos can use eucalyptus pole or bamboo fencing for enclosures. They look much more attractive than chain-link fences and delight visitors at the same time.
Why Partner With BYXS Commercial?
When you work with BYXS Commercial, you'll gain access to quality products that capture the essence of tropically themed environments. We have worked with zoos, resorts, theme parks and restaurants, and we're ready to deliver the high-quality materials your project needs. We offer take-off services, and our responsive team will help you stay on track and on schedule with fast turnaround times and exceptional service.
Besides genuine materials and attractive synthetics, we also offer valuable services to help architects and contractors develop and execute a tropically themed atmosphere. We assist in the design process, letting our thorough product knowledge guide our materials selection and value engineering. We also offer a library of technical specifications on all our products, as well as specialty sourcing. When it's time to take a project under construction, we'll help with logistics, fabrication and installation.
To get started, reach out to us for a free estimate or request a sample of our tropical resort building materials online. If you have any questions, our team will be happy to help — just give us a call at 877-625-9001.