A tropical theme in a commercial space can help lighten the mood and make employees and visitors feel like they're on an island vacation. When you design the property with bold colors and colorful leaf motifs, you allow all who enter to remember that they can enjoy their everyday life without taking an exotic trip. Whether you're in charge of planning a restaurant, amusement park, hotel or office, you may want to incorporate tropical designs into a commercial space. These tropical work atmosphere design tips can help you start your plan.
Elements of a Tropical Design
A tropical design is a fun, eclectic way to decorate a restaurant, hotel, office or amusement park. To make your decorations fit within the aesthetic, consider these tropical elements:
Bold colors and patterns: An island-themed room often features leaves or exotic flowers on the walls, ceiling, floor or décor. Green leaf motifs can connect an indoor space to the outside, boosting the employees' moods and making them more productive. To create a pleasant contrast with the bold, wild colors, you may also want to include brass or gold accents in your furniture.
Use of live or artificial plants: Strategically placing a few plants around the area can create a tropical, carefree aesthetic for your property. Depending on how much time the maintenance staff has to water the plants, you can use natural or synthetic plants. Real plants can enhance indoor air quality, while artificial ones can withstand more wear and tear.
Rattan furniture: Tropical rattan is suitable for indoor and outdoor use because of its resistance to weather damage. Since it comes from the rainforest, it fits the exotic aesthetic of your commercial space. Consider setting up rattan seating and tables for guests and employees to enjoy.
Lighting: Light fixtures, built-ins or floor lighting can create an inviting outdoor feeling indoors. For an authentic tropical design, try to incorporate much natural light in the space through large windows and skylights. String lights around your outdoor restaurant or bar may also be helpful so guests can see at night.
Natural materials: A tropical aesthetic involves natural bamboo, wood or stone in the furniture, walls or décor. These eco-friendly materials will help create a tropical atmosphere, even while you're indoors.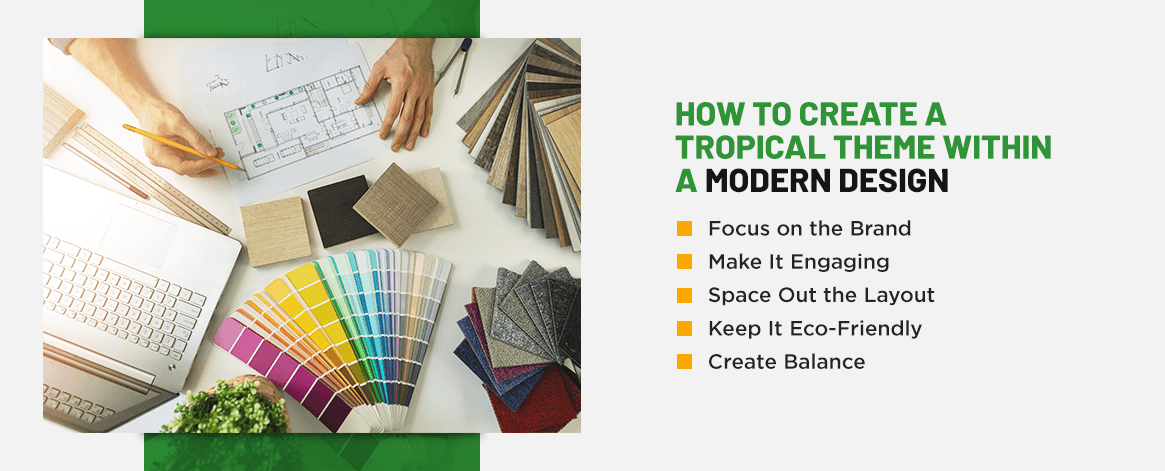 How to Create a Tropical Theme Within a Modern Design
Here are some commercial tropical design tips for combining these decorative elements into a modern space.
Focus on the Brand
The purpose of your décor is to create the perfect commercial space that meets the needs of potential clients, making the company's brand, products and services evident to everyone who walks through the doors. If the company has an island theme or offers exotic memorabilia, make sure your decorative elements highlight its aesthetic. When the restaurant design includes colorful flowers and thatch roofs, customers are more likely to order tropical drinks and food from a unique menu to enjoy their experience.
Make It Engaging
The commercial space should attract employees and potential clients. A tropical design can turn a generic hotel or lackluster amusement park into a fun place to stay and play. When the employees enjoy being in the office or walking around the restaurant, they'll be more productive. Guests may also be more willing to invest in your products and services when they appreciate your environment. To combine modern and tropical design, you can use neutral colors with bold accents to captivate your patrons without overwhelming them.
Space Out the Layout
The employees should have plenty of room to work so they can be more productive. Be creative with your layout, providing space for guests and workers to move around the area. A tropical aesthetic may bring crowded leaves and flowers to mind, but it also allows you to make the most of the property by incorporating the outside indoors. Use storage units to create a minimalist design, making the best use of your floor, wall and ceiling space.
If you're decorating an office or hotel inside, try to bring natural plants and other outdoor elements into the space. Consider building the indoor area with large windows that overlook a captivating view of the yard. A courtyard also gives employees and guests a place to spend time outside and get some fresh air.
Keep It Eco-Friendly
Modern design focuses on practicing social responsibility and reducing the wear and wear the property puts on its surrounding environment. Use recyclable materials and eco-friendly finishes to improve indoor air quality and create a more sustainable atmosphere. The space should be simple and natural while also providing plenty of light, ventilation and views to the outside. You may also want to create shade around the property to reduce energy expenditure.
Natural plants can help make a room feel clean and create a feeling of being on an island vacation. Bamboo and thatch are eco-friendly, sustainable materials that enhance a tropical design. You can use these components to create indoor and outdoor fences, roofs and accent pieces. These durable materials can also withstand most weather damage, so you won't have to replace them as often as other materials. As a result, you can save resources and waste from creating new replacement products.
Create Balance
If you want to combine modern and tropical designs in a commercial space, you need to find a way to blend clean lines and bold shapes. The modern aesthetic involves clean lines, minimalist décor and metallic elements, but a tropical theme features bright, bold colors with unique textures. You can bring both these aesthetics together by using your exotic decorations as accent pieces. Instead of overwhelming guests and employees with too much color, you can create a pleasant contrast using neutral tones with a pop of pink or green.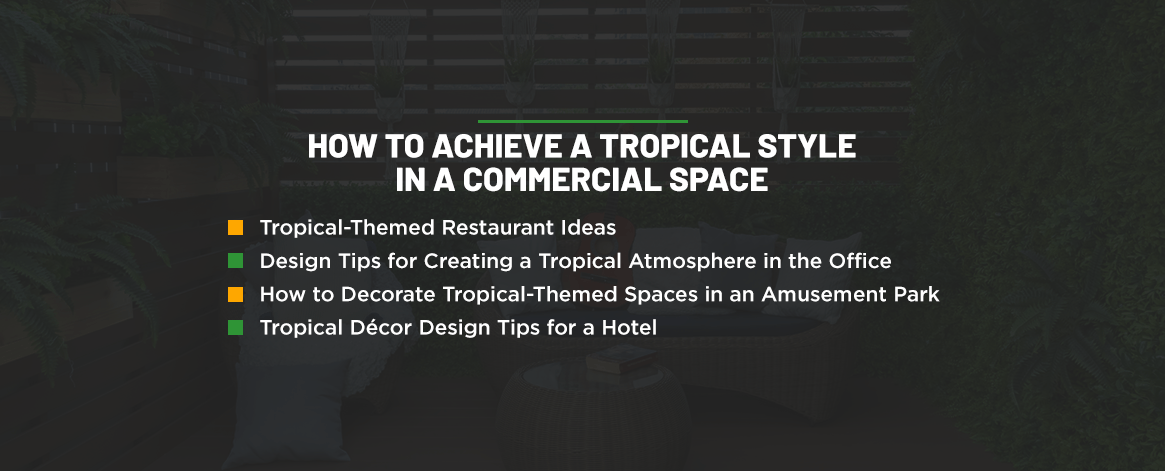 How to Achieve a Tropical Style in a Commercial Space
As you design an island-themed restaurant, office, amusement park or hotel, follow these tropical décor design tips to create an inviting atmosphere for patrons and employees.
Tropical-Themed Restaurant Ideas
The decorative elements you use to design a tropical-themed restaurant should highlight its brand. Think of what's on the menu, and find ways to incorporate the food items into your décor. You can make the space refined or eclectic, depending on whether it's a formal dining place or a casual take-out eatery. If there's an outside dining area, you can use wicker and rattan furniture for durable, comfortable seating. You may also want to use natural plants and a fountain to create a tropical atmosphere.
Inside the restaurant, you can use floral wallpaper and natural or synthetic flowers around the room. It also helps to have green leaf motifs or shell-shaped lighting sconces on the wall. Consider decorating with tropical colors in the seating, tables, walls and flooring throughout the whole space. If the restaurant is more on the formal side, try to use bold colors as a decorative accent instead of overwhelming the guests with too many patterns.
Design Tips for Creating a Tropical Atmosphere in the Office
Establishing an eco-friendly, fun atmosphere in a commercial office can increase employee productivity and promote a fun environment throughout the workday. Consult the office manager about getting the employees involved in the tropical office design and keeping their interests in mind. When the whole company decides which decorations will go around the office, they'll feel more invested in their jobs.
One of the best ways to create tropical-themed workspaces while boosting employee activity is by including plants and other natural materials. The quantity of greenery in the area depends on the employees' preferences. Real plants can help those in the office stay focused, feel less stressed and be more productive. Having natural plants inside can also offer cleaner air, so employees can breathe easier and take fewer sick days because they love their tropical office design space.
How to Decorate Tropical-Themed Spaces in an Amusement Park
A tropical amusement park creates a fun place for people of all ages to spend the day. This theme can make a local water park feel like an exotic island vacation, especially with all the water helping decorate the space. Since these spaces are typically casual, you're free to use as many design elements as you want. Amusement parks mostly feature outdoor space, so the materials you use should be durable against moisture and sunlight damage.
You can use comfortable seating with pastel colors and tropical motifs on the walls inside of casual dining areas. Cover your outdoor seating with thatch round umbrellas to provide shade for your guests. You could also use thatch on the roof of your check-in kiosks and other indoor areas.
Tropical Décor Design Tips for a Hotel
When guests stay at a hotel in a tropical location, they expect a luxurious design throughout the whole property. If your hotel is near a coast or other pleasant scenery, you can highlight this natural beauty in your outdoor meeting areas. Adorn outside spaces with fireplaces, pools, kitchens and comfortable seating to allow your guests to enjoy the pleasant weather. Hang up string lights outside to help people see at night, so they don't have to stop enjoying each other's when it gets dark.
You can put a natural or synthetic thatch roof over outdoor bars to provide shade for customers and bartenders. Inside the property, include green plants and other authentic, local materials. Put neutral earthy tones with pops of color in each room. In common meeting areas, use bright colors as decorative accents.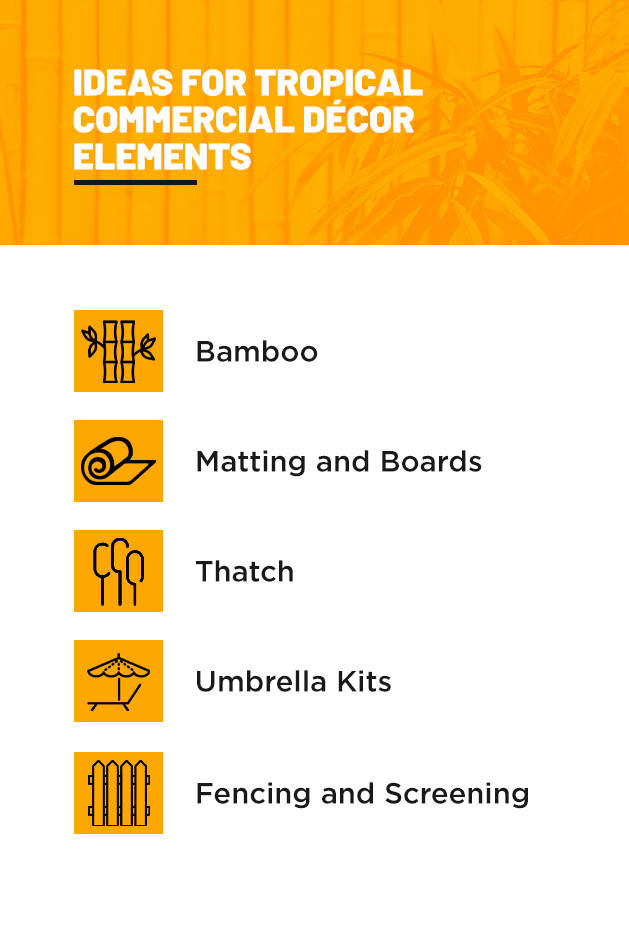 Ideas for Tropical Commercial Décor Elements
To achieve a tropical theme in a commercial space, you may want to include the following materials in your design.
Bamboo
If you're creating a tropical aesthetic, you'll want to include sustainable bamboo poles or panels somewhere in the design. Bamboo is durable for indoor and outdoor use, suitable for wall or ceiling cladding, furniture, decorative columns or other elements. Since it has greater tensile strength than steel, it can last for a long time on the property.
The bamboo products you use should meet the local area's required fire ratings and environmental regulations to keep the commercial space safe. Besides the material's function, you can also complement the whole area's design with the various color and texture options that bamboo offers.
Matting and Boards
Natural decorative boards and matting contain natural timbers and fibers, and they meet Class A Fire Rating requirements. These products are relatively easy to install, so you can conveniently enhance the commercial property's tropical, sophisticated aesthetic. You can put this material on columns or walls to design the room with an airy, light feeling.
For commercial applications in outdoor, high-traffic areas, you may want to install synthetic matting on your structure's walls or ceiling. ViroSurface matting looks like natural materials, and it offers plenty of color options to complement the design anywhere in the space.
Thatch
Natural thatch involves sustainable, Class-A-fire-rated dried plant material that you can use on the roof of your club, resort or amusement park kiosk. The various colors displayed in these panels offer a unique appearance and can withstand most damp climates. Thatch is relatively easy to install, comparable to installing standard roof shingles. Consider your budget and whether you need this material for interior or exterior projects. Some products can even create an open-air structure or a subroof system, offering additional protection from the rain.
As a longer-term solution for high-traffic areas, consider investing in artificial thatch, which looks like natural thatch but is more durable. This product contains high-density polyethylene (HDPE), a recyclable material that has a high strength-to-density ratio. Artificial thatch doesn't attract pests or shed, and it's usually waterproof.
Umbrella Kits
Whether you're designing a restaurant, amusement park or hotel, you may need to install outdoor seating for your commercial application. Umbrella kits provide shade and weather protection for guests as they eat meals or take a break from walking around the area. You can find natural or synthetic thatch umbrella options. Synthetic thatch tends to do a better job of resisting fading from exposure to the sun. However, natural thatch umbrellas are durable and provide a unique look that'll set the commercial space apart from the competition.
Fencing and Screening
If the property needs some privacy or a way to direct pedestrian traffic, you may want to check out some screens and fencing to enhance your design's function. You can install solid bamboo fencing inside or outside. This product offers various color and texture options to make your indoor or outdoor aesthetic more unique.
Use various materials to create privacy or construction barriers, handrails or designated areas where you want to provide guests with a view. You can find fencing from different wood species to create a decorative look and provide durable protection for the commercial space.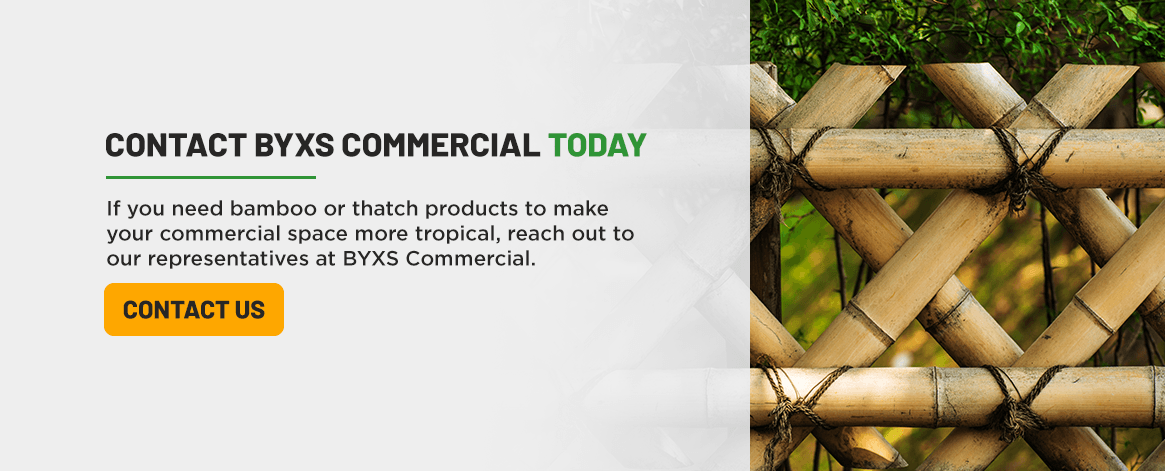 Contact BYXS Commercial Today
If you need bamboo or thatch products to make your commercial space more tropical, reach out to our representatives at BYXS Commercial. We'll help you every step of the way, from design to fabrication and installation. When we set up our fencing, panels or roofing on the property, we provide a one-year warranty for our installation services.
You can request our product samples to find out how they'll look with the rest of the design. If you're ready to start creating your tropical-themed commercial space, you can speak with us online or call 877-625-9001.