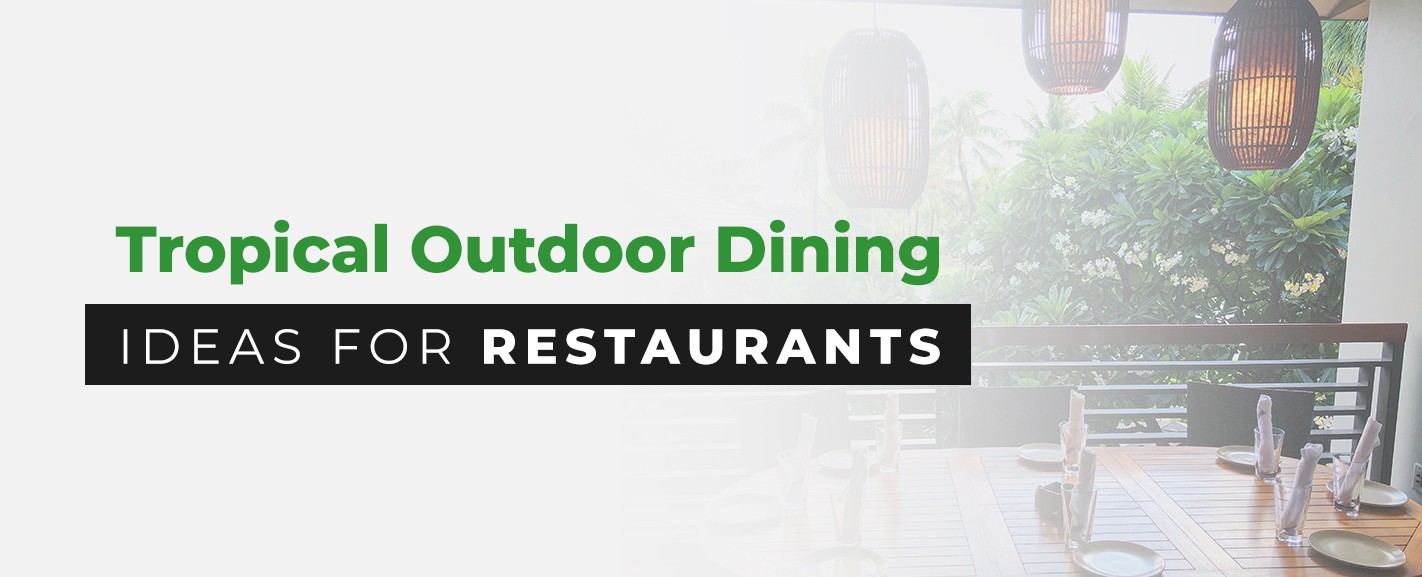 There's something refreshing about sitting outside in the fresh air and dining with friends and family. As a restaurant owner, you have the ability to give that experience to your customers. For a fun or luxurious outdoor dining experience, consider going tropical. Whether you're undergoing construction of a new restaurant, creating a new outdoor space or revamping your current area, a tropical theme can be inviting and relaxing.
Dreaming up the perfect tropical outdoor dining ideas will take a bit of thought, but it's all worth it. Discover how to create an outdoor dining space and how to set up an exterior dining area below.
Jump To Sections:
Benefits of Outdoor Seating
Customers will love the opportunity to enjoy their meal or drinks outside. And you'll love the array of other benefits that come with creating outdoor seating. When you have an exterior dining space, you can:
Host more guests: Expand your seating outside as a solution for bringing more customers to you. It'll help cut down on wait times and bring in more revenue for your business.
Free up space inside: If you choose to host the same number of guests and move indoor seating outside, you'll free up space inside. Your restaurant's interior can feel less cramped and be easier to navigate for guests and staff.
Take advantage of nice weather: With a restaurant location in a comfortable climate, guests will enjoy and appreciate the option to eat outside. Even if the weather becomes unfavorable in cooler seasons, it'll still be an enjoyable dining space for warmer months.
Provide event space: If your outdoor dining area is a patio or deck, you can offer it as an event space for large groups. Compete with local restaurants who offer similar services and make a name for yourself with a fun and unique party, meeting or gathering space.
Attract customers: If your exterior dining area is visible from the street, make it inviting to attract guests. Bright colors, stylish decor and other tricks will be eye-catching to passersby.
Have a marketable perk: Once you create your exterior dining area, be sure to market it. Not every potential customer will be walking by, so advertise your new restaurant space on various platforms.
How to Create an Outdoor Dining Space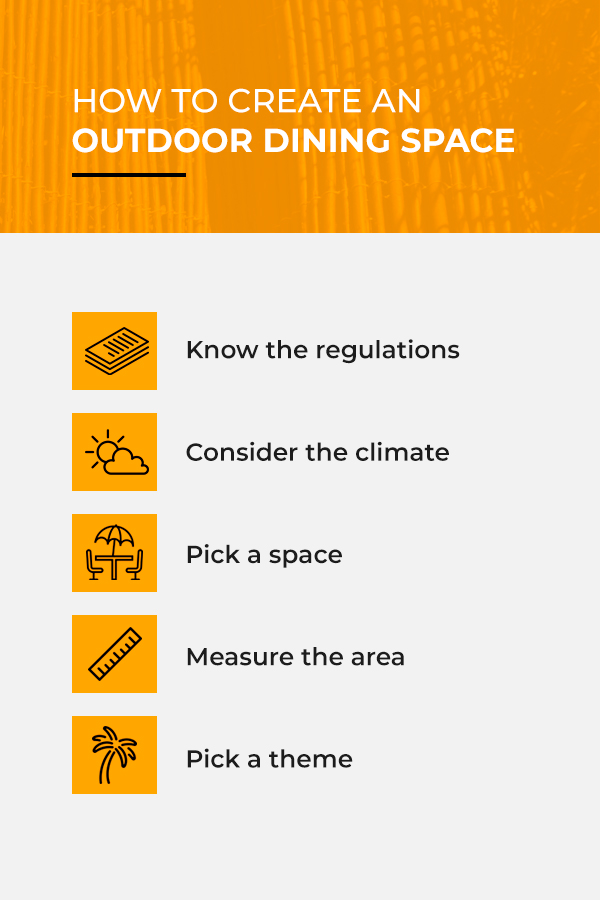 As you consider tropical outdoor dining options for your space, it's helpful to keep a few things in mind. These considerations will help with the planning and designing process of making an exterior dining setup. Here are some tips for how to create an outdoor dining space:
Know the regulations: As a restaurant owner, you know you have laws and regulations to adhere to. Those guidelines apply to an outdoor dining space, as well. They'll vary with local, state and federal guidelines, so research your location's necessary permits. Know the noise ordinances, whether smoking is allowed, if you can allow pets and other factors.
Consider the climate: Think about the exposure to the elements at your restaurant and what those elements could be. Check wind ratings and choose products that are water- and UV-resistant if they're exposed to the elements.
Pick a space: Where you bring outdoor dining ideas to life will depend on your location. You may have a poolside bar space as a resort restaurant or a sidewalk or alley space for dining. As long as these areas comply with regulations, you can create an outdoor dining space.
Measure the area: You'll need an idea of how much room you have for tables, chairs and decorative elements. Have your measurements with you as you shop for furnishings and decor to get the right fit.
Pick a theme: Brainstorm outdoor restaurant design ideas based on your business' style. Outdoor tropical decor for restaurants ranges from a high-end oasis to a fun and whimsical design. Having a theme will help the space feel cohesive within your outdoor dining area and the interior of your restaurant.
Outdoor Tropical Decor for Restaurants
With tips in mind, it's time to get inspired with outdoor tropical decor for restaurants. You have plenty of options for styles, colors and materials, so find inspiration before you decide what will work with your business. Incorporate these furnishings and decor items in tropical finishes for your exterior dining area:
1. Tables and Chairs
A dining area will of course need dining tables and chairs. Just because these items are practical doesn't mean they can't be decorative as well. You'll want comfortable dining chairs and spacious tables that don't take up too much room, but you can still select tropical materials to complement your theme. You should also ensure the furniture is treated and sealed to withstand the elements. With that in mind, consider tropical furnishings made with:
Bamboo: Bamboo furniture has a classic tropical color and texture. Natural varieties have a yellow to tan coloration, giving you fun and fresh furnishings. For something sleek and sophisticated, go with black bamboo and its rich, caramel brown tone. Solid bamboo and Guadua bamboo poles can be used to construct bamboo furnishings or as accents in wooden furniture.
Teak: This hardwood variety is popular for tropical furniture. Its rich tan and honey tone will complement the colors in other natural materials you may have in an exterior dining area. Teak is a subtle tropical look that gives you a versatile style.
Rattan: Choose from synthetic or natural rattan for your furnishings. The material is woven into wicker styles of tables and chairs. The result is a tropical furnishing you'd expect to find at resorts or poolside, but that look also works for exterior dining lounges.
2. Umbrellas
Provide shade during the day for a more comfortable dining experience. A tropical-themed umbrella features natural or synthetic thatch coverage, a post and a top cone. The result is a stylish way to provide your guests with comfortable shade.
A thatch umbrella can last a few years with proper care and based on the climate at your restaurant's location. Thatch umbrellas tend to be best in hot and dry climates or outdoor applications with no direct exposure to the elements. If these structures would suit your exterior space, select from materials like synthetic African reed, natural African reed, synthetic palm and natural palm.
Thatch umbrellas come in a variety of sizes to span various seating areas. Find 7-, 9-, 11- and 16-foot styles, and select the best ones for your space. You want an umbrella that's large enough to provide customers shade as the sun moves throughout the day but isn't so large that it diminishes the look of the table and chairs below it.
3. Roofing, Coverage and Privacy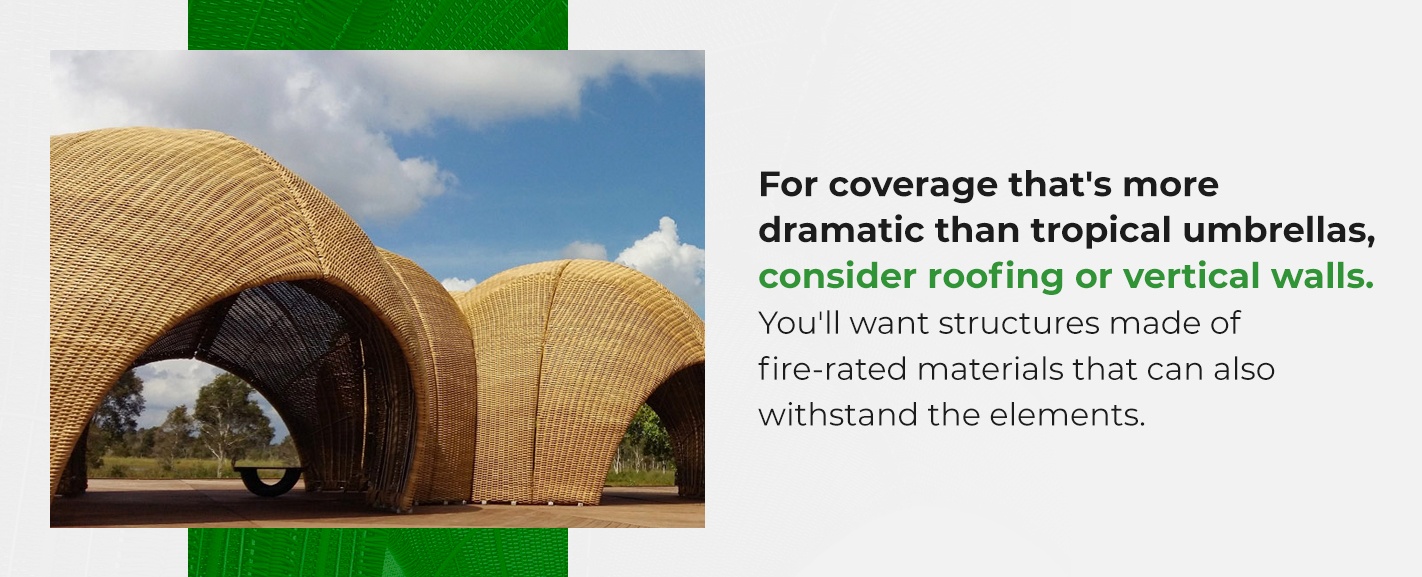 For coverage that's more dramatic than tropical umbrellas, consider roofing or vertical walls. You'll want structures made of fire-rated materials that can also withstand the elements. That gets you a structure that meets the necessary codes and provides comfortable seating areas. Provide customers with adjustable coverage from the elements or some privacy from other patrons with structures like:
A bamboo pergola: A pergola provides open coverage that lets in light, or you could add materials to provide shade if needed. A bamboo structure provides the tropical feel already, but you can layer natural or synthetic matting along the top for more coverage.
A bamboo trellis: Add vertical trellises to your exterior dining area for a bit of extra coverage. Install them on the sides of a bamboo pergola or use them as unique fencing options. Add greenery to the trellis for a lush and wild look that can add a bit of privacy or leave it bare for minimalist decor.
Partitions: Partitions are becoming increasingly popular at outdoor restaurants. Place them between seating areas to define spaces for patrons and encourage social distancing. Partitions provide a partial privacy solution that, at certain heights, can also offer a bit of coverage from the elements. These structures may be made of fencing materials, such as bamboo or eucalyptus.
4. Fencing
Provide some more privacy to your customers as they dine outside with fencing. Whether you can install fencing as a part of your outdoor tropical decor will depend on building codes and how much space you have. If you're able to construct fencing, use tropical materials to highlight your theme with selections like:
5. Plants
One of the secrets to learning how to create a tropical-themed restaurant is surrounding your guests with lush greenery. This is especially appropriate if your exterior dining setup is in a garden area, perfect for filling with tropical plants. Even if you have a sidewalk or alley dining area, you can incorporate potted tropical plants to suit your theme. See how tropical plants like these may grow in your climate:
Aloe vera
Begonia
Bird of paradise
Dragon tree
Eucalyptus plants
Fiddle leaf fig
Monstera
Rubber tree
Yucca
To tie plants into your tropical decor for outdoor dining — whether the plants are tropical or not — add tropical accents to the planters. Layer the planter in synthetic tropical matting for a rot-, mold- and mildew-resistant decor element.
6. Lighting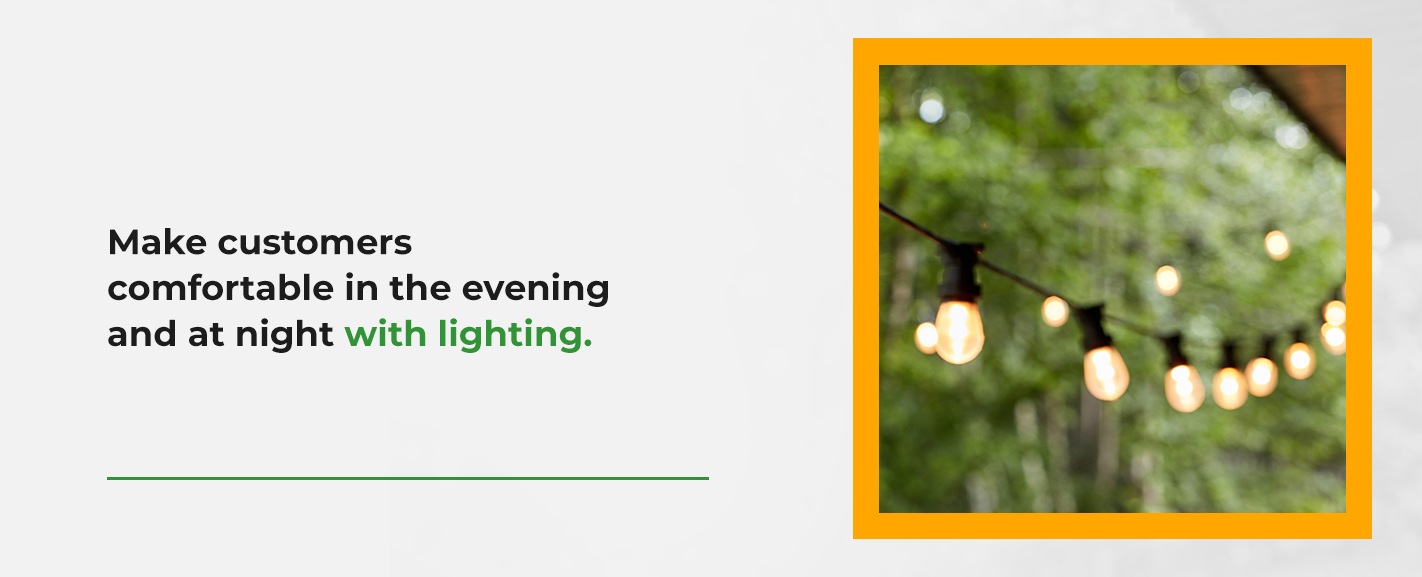 Make customers comfortable in the evening and at night with lighting. The lights you use will depend on the electrical restrictions for your outdoor area and what structures you have to hang lighting from. Not every lighting style requires electricity, like solar- or battery-powered options, but electricity could be more reliable. As you decide how to power your lights, consider these fixtures:
Table lights: Create intimate lighting with table lights. Use LED and battery-powered table lamps or candles, depending on the light intensity you want. You can also incorporate table lighting into a centerpiece for added decor.
String lights: There's something intimate and cozy about the glow of string lights above. If your outdoor dining space is in an alley, hang string lights over the area to create a lit canopy.
Wall lights: If your dining area is against exterior walls, use the space to add lighting. Keep wall sconces simple for a high-end look or go themed with unique shapes for a fun choice.
Bollard lights: Whether you use these lights will depend on your layout and how much room you have. Bollard lights line pathways, and they're ideal if you have an exterior entrance to a dining area in the back.
Garden lights: If you have landscaping, draw attention to it once the sun goes down. Camouflage small lights among the plants for discreet lighting or use spotlights for something more obvious.
7. Decor
Once your exterior space comes together, it's time to add the finishing touches and bring your outdoor dining theme ideas to life. A few decor elements will solidify your tropical inspiration and treat customers to a high-end experience or a fun, themed evening out. Whether you add a few decorative elements to keep with a minimalist aesthetic or go all-out with decor throughout your dining area, you could use:
Wall cladding: With an outdoor dining area along your building's exterior wall, you have plenty of space to decorate. Use fencing materials as wallcoverings for unique exterior details that add texture and emphasize a tropical theme. Select a durable option that you can install on existing walls.
Centerpieces: Using small accents on your tables will tie in the oasis feel throughout your dining space. Be mindful of your tables' sizes when you pick centerpieces — you don't want them to be too big for the space. For tropical outdoor dining decor ideas, use touches like woven matting and vivid floral displays.
Themed items: Your decor extras will change with your restaurant's theme. For Tiki styles, incorporate masks or signs. For a beach theme, use beach signs and natural touches like shells throughout the area. These additions can be as practical or decorative as you like.
Ensure your decorations are secure or that you and your staff bring them in every night if they're loose items. You don't want wind or overnight storms ruining your careful design.
Create a Tropical Outdoor Dining Area With BYXS Commercial
Ready to transform your outdoor dining area into a tropical oasis for your customers? Trust BYXS Commercial to provide the products and services your business needs. Whether you're searching for thatch, bamboo, matting and more or need design assistance, BYXS Commercial is here to help. We have over 15 years of experience serving our customers, and our team of technical experts will help turn your outdoor food court design ideas into a reality. From quantity take-offs to samples and estimates, you'll get everything you need with us.
If you're looking to make or revamp an outdoor dining space, contact BYXS Commercial today for more information about our products and services.