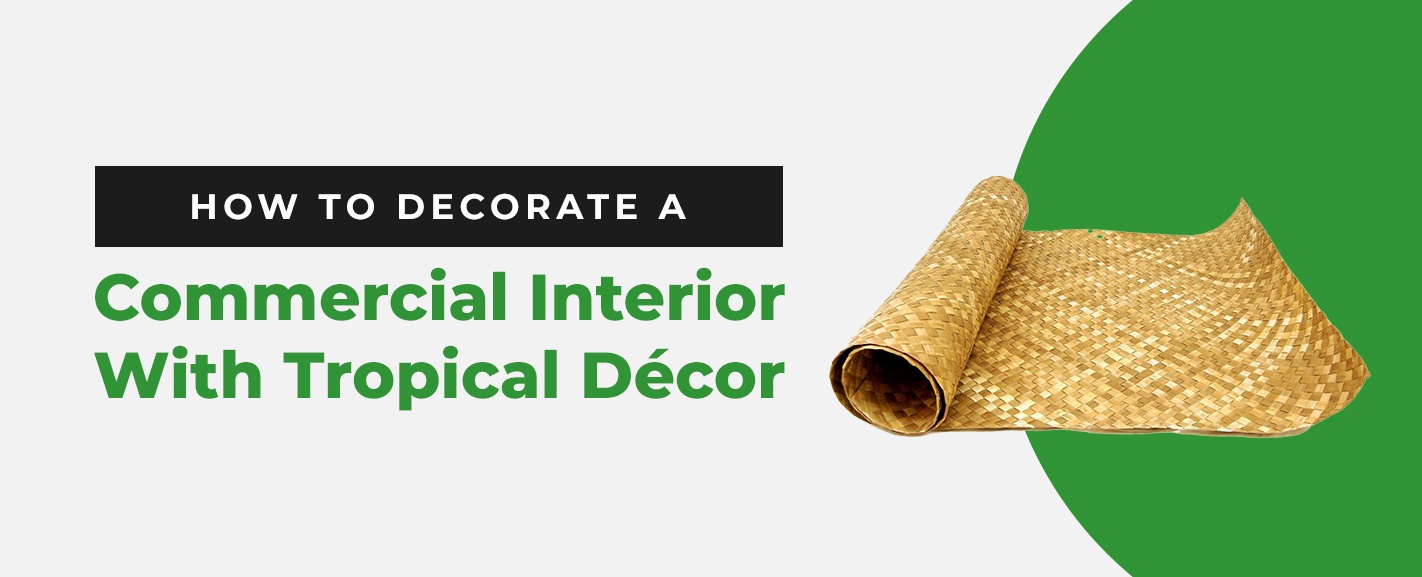 A tropical-themed room design promotes a fun, relaxing atmosphere for a restaurant, hotel, zoo or waterpark. If you're designing an island aesthetic for an interior commercial space, you'll need to figure out how to use tropical décor inside. Whether you're on the beach or in a snowy mountainous region, you can bring a tropical design to your site.
When guests come inside, they should feel welcomed. The right floral décor and bamboo accents can help to accomplish that. As a result, your guests will be more likely to invest in your products and services and want to stay longer. This guide will help you explore all the indoor tropical applications that can enhance your commercial property's beachy vibe.
How to Incorporate Modern Interior Tropical Elements
Here are some tips for tropical interior applications to help you design a commercial space.
1. Create a Balance Between Modern and Tropical
If you're trying to blend a tropical design with current trends, you'll have to find a way to balance minimalism and extravagance. The modern aesthetic focuses on clean lines and neutral colors, while a tropical theme is all about bold decorations and vibrant hues.
To make these two styles work together, try to use neutral colors throughout the space, with flowers and bold patterns as decorative accents. When you find a way to include island décor without overwhelming the overall design, you can enhance the area.
2. Design With Contrast in Mind
By establishing contrast in a room, you create a visually appealing experience for guests. Consider what different colors, textures and materials are suitable for the commercial space. You could decorate with two colors on the opposite end of the color wheel and include rough and smooth surfaces to create a fresh effect. Incorporate metal and wood into your design to add dimension and warmth to the room.
When you're trying to find the contrast between modern and tropical design, keep your decorative purpose in mind. The playfulness of the coastal or island elements needs to stand out against the neutral colors without being overwhelming.
3. Keep Your Décor Simple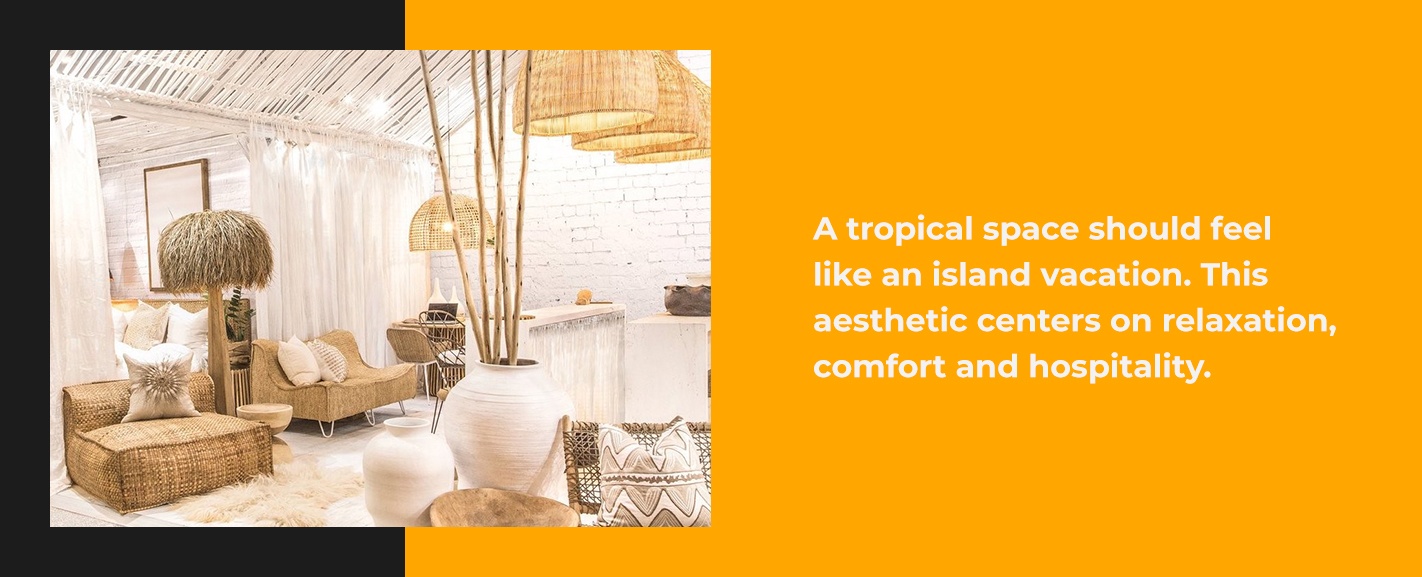 A tropical space should feel like an island vacation. This aesthetic centers on relaxation, comfort and hospitality. By promoting a coastal style in a commercial space, customers are more likely to feel comfortable indulging in the company's themed products or services.
However, when you incorporate tropical themes into a formal, modern room, try not to overdo it. Instead of overwhelming the space with bright flowers and leaf motifs at every corner, you only need a few subtle elements to enhance the island aesthetic and provide a relaxing atmosphere for guests. The bold decorative pieces should be accents that create a unique focal point in the room.
4. Use Natural, Eco-Friendly Materials
Natural materials bring modern and tropical styles together because each design aesthetic features eco-friendliness as a priority. Sustainable bamboo, eucalyptus, thatch and local flora demonstrate an acceptance of environmental responsibility while providing a laid-back feel to a commercial space. Vertical gardens and green roofs can also enhance the property's visual appeal and help improve the surrounding air quality.
The interior finishes and materials promote an island atmosphere and abide by current trends. Consider where you're going to use each element to make the property feel inviting without overwhelming the design. For instance, too many plants can crowd the area, but having a subtle flower on each table can create a charming focal point and conversation starter for guests.
5. Incorporate Indoor and Outdoor Elements
Even though you're remodeling an interior commercial space, you may want to include some outdoor decorative themes to create a tropical atmosphere. Thatch-roofed Palapas or huts could inspire your design of the check-in desks or dining areas. You can also integrate natural light by installing large windows and skylights.
Expansive windows give guests and employees a lovely view of the beach or landscaping. Additionally, allowing natural light and other outdoor elements inside can help the area to feel more spacious and inviting.
Tropical Commercial Design Ideas
Take a look at these tropical interior elements you can include when designing an island-themed commercial space.
1. Natural Materials
Teak, wicker, bamboo and rattan are durable, aesthetically pleasing materials that create a tropical vibe. Wicker and rattan are grainy like the soft sand, while bamboo and teak are rough like the trunk of a palm tree.
Consider installing rattan or wicker furniture for comfortable seating in casual meeting areas. You could also use bamboo as a decorative element to create robust columns, visually appealing ceiling coverings and eye-catching room dividers.
2. Low-Maintenance Flooring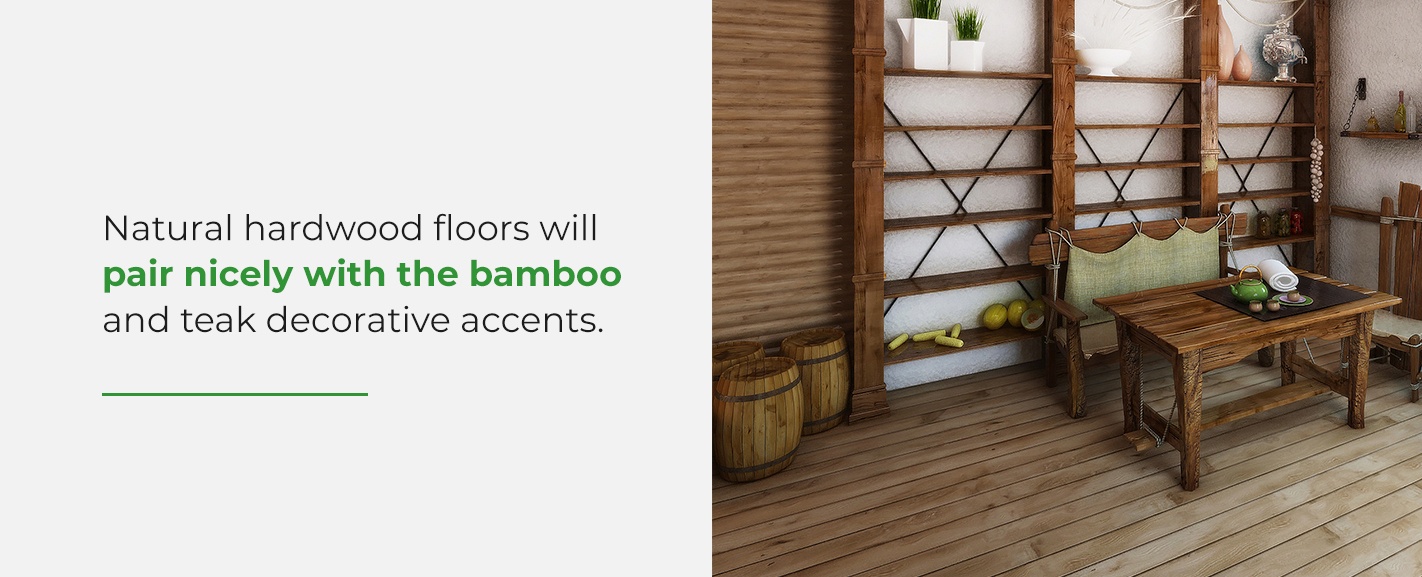 The whole space's design should promote a fun, beachy environment, from the floors to the ceiling. The flooring material should also be easy to clean. Consider installing hard surfaces that are convenient to sweep or vacuum. Natural hardwood floors will pair nicely with the bamboo and teak decorative accents. Laminate looks like natural wood, but it's usually more durable.
Even if your business's location isn't in a coastal area, you can put down floors that create the sense of being in a vacation home.
3. Local Flora and Foliage
You may want to use natural and artificial flowers, especially those native to the area, throughout the interior space. Incorporate greenery and flora of various sizes around the restaurant, hotel lobby or meeting area. Think about what area of the world you're trying to emulate and choose flowers from that region.
Orchids, ginger, banana blooms and palm plants native to island climates can enhance the property's design. The key is to use these colorful decorations sparingly so you don't overwhelm the guests and employees.
4. Floral and Coastal Décor
If the commercial space isn't near a beach, you can create a feeling of being on an island with flower and leaf motifs. Remember to use these decorative elements sparingly because too much décor can make the design feel juvenile. You might want to use window treatments or tablecloths with flowers, leaves and lattice prints. For an ornamental accent, you can put palm leaf wallpaper on the walls.
To avoid going overboard in your tropical design, include tasteful décor on the walls. Hang up pictures or oil paintings of animals and wildlife. You could also find carved wood sculptures or metal statues to put on the tables or desks. Whether you want to focus more on the natural or the island theme, you can decorate the area with worn oars, sailor's knots, hammocks or Tiki torches.
5. Coastal Colors
To reflect the surrounding coastal environment, design the commercial space with natural, earthy tones. The tropical style embraces the colors of the beautiful beach, creating a sense of calm and relaxation. Design the property with subtle and vibrant shades of green and blue to mimic the ocean waves. Remember to create a balance between clean design and ornate decorations.
Use a mix of pale and bold shades for your walls, ceilings and décor, adding some splashes of color for an eye-catching contrast. After establishing a neutral color base, you can incorporate bold accent tints, like orange or coral. You might even consider having a mural painted on the wall for a unique focal point in the room.
6. Natural and Artificial Light
The warmth of the sun at the beach can help guests relax. To create a comforting feeling indoors, try to bring natural light into the area by installing large glass windows and skylights. You could also use soft pastel colors in your décor to help reflect the sunlight coming in through the windows.
If your location gets a lot of rain or has trees blocking the sunlight, you'll probably have to install some artificial light fixtures. Consider setting up ceiling fans, pendant lights or shell-shaped sconces for decorative, functional lighting. Wicker or parchment paper lampshades can also create a coastal feel while allowing more light into the interior space.
Interior Applications for Tropical Materials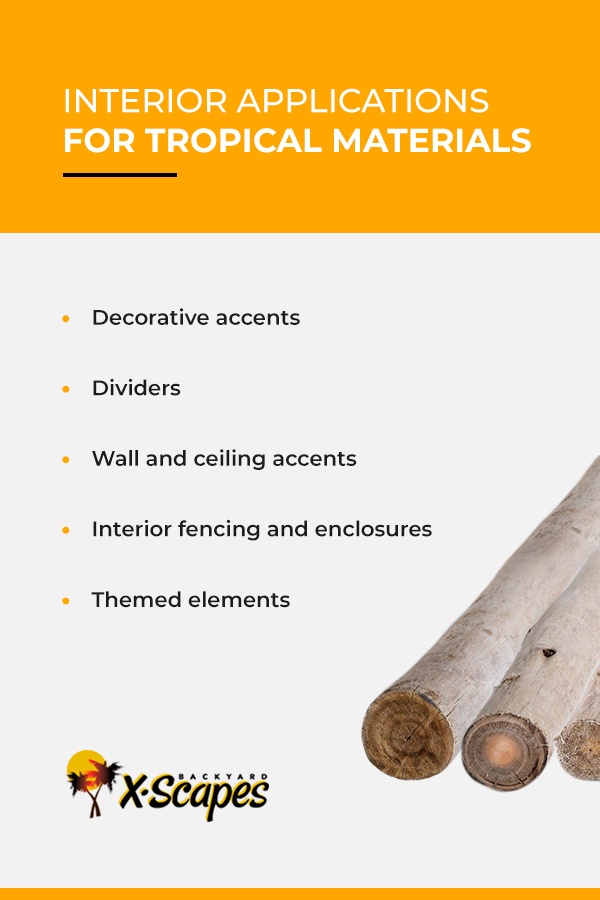 Natural tropical materials can enhance the visual appeal of an indoor commercial area. Thatch, eucalyptus and bamboo offer durable strength and a distinct appearance that'll create a unique design for your project. These elements are suitable for interior uses such as:
Decorative accents: Tropical building materials serve as a decorative accent that can transform the existing décor. You can use bamboo as trim or a millwork design and eucalyptus poles as a detailed ceiling covering.
Dividers: Eucalyptus and bamboo pieces make beautiful, durable room dividers. Their structural integrity allows them to provide some privacy between each part of the room, and their distinct appearance can enhance the commercial space's aesthetic.
Wall and ceiling accents: Natural tropical materials can complement the tropical theme by covering the walls or ceiling. Matting or bamboo poles can create a backdrop against a wall and provide a unique point of interest in the room. You can also use bamboo and eucalyptus poles as decorative ceiling beams to draw the eye up and create the illusion of more space.
Interior fencing and enclosures: Even though fencing is usually for exterior use, you can find creative ways to use bamboo fences inside. Fencing can control pedestrian traffic while waiting for seating at a restaurant or viewing an animal exhibit. Reed or willow screens could also provide some privacy in an area that's off-limits to guests.
Themed elements: You may want to have themed decorations throughout the restaurant or indoor waterpark to give guests a unique, immersive experience. Use natural and synthetic materials to create Tiki hut check-in kiosks, decorative dining areas and shaded structures.
Indoor Tropical Décor Materials
You can find interior tropical materials that enhance the property's island atmosphere at BYXS Commercial. We offer the following products for your island-themed design.
Interior Uses for Bamboo
Incorporate bamboo poles or panels in your interior tropical décor. Bamboo is sustainable and can help create an authentic-looking island environment.
Bamboo poles also have an exceptional tensile strength that is comparable to steel. You can find a variety of different types of bamboo building materials for your commercial application, especially for walls, ceilings and creating small indoor kiosks.
Consider solid bamboo for decorative columns that establish a prominent focal point in the room. You can find various species with different colors and textures to enhance your island-themed space's aesthetic. Bamboo panels can cover walls or ceilings and serve as tropical trim or millwork. You could also sand or paint these pieces to complement the rest of the area.
Interior Uses for Eucalyptus Poles and Beams
Due to their durability, most designers use eucalyptus beams and poles for exterior applications. However, this sustainable material is an ideal substitute for pressure-treated pine, making it suitable for interior structural framing and columns.
Eucalyptus serves various decorative and functional purposes inside a commercial space. Consider using eucalyptus as decorative chair rails, casing, trim, wall cladding, ceiling coffers, millwork or retail fixtures. Its distinct appearance can create unique decorations and handrails to help guests move about the area safely and dividers to provide privacy.
Interior Uses for Natural Matting and Boards
To create an authentic tropical atmosphere, consider putting natural boards and matting on your walls, ceilings, doors, cabinetry or bar tops. These materials are made with natural timbers and fibers, so they are Class A fire rated. They're also relatively easy to install with a chemical fastener and pin nail reinforcements. You can lay them over existing structures at the bar, restaurant or check-in desk.
The matting we offer has various colors and patterns to complement your interior application's design aesthetic. You could also whitewash the matting to give it a contemporary appearance. This lightweight, airy material can be used to create a unique design on the ceiling as well.
Interior Uses for Natural Thatch
Fire-rated thatch is suitable for both interior and exterior applications because of its durability and longevity. This product contains dried plant materials that usually serve as outdoor roofs, but you can also use them for indoor structures. It would be suitable for large spaces, like indoor waterparks or hotel lobbies, where you want to create an outdoor environment inside by building small huts or kiosks.
Although you can use any of our thatch products indoors, Mexican Palm Thatch is affordable and exceptionally functional for interior applications. You can find various colors and textures that can accommodate your indoor Palapas, roofs, umbrellas, rolls and panels.
Contact BYXS Commercial Today
If you need help designing your tropical-themed restaurant, waterpark, zoo or hotel lobby, check out our bamboo, eucalyptus and thatch products. Our poles, panels, matting and boards are durable and long-lasting, so they can withstand pedestrian traffic and wear and tear. You can consult with one of our representatives to find commercial tropical décor that complies with your local fire-rating regulations.
To find out how a material will look with your commercial design, order a sample of any of our products. We also provide installation services to help enhance the design's integrity. For more information about what we offer, you can speak with a representative online or call us at 877-625-9001.