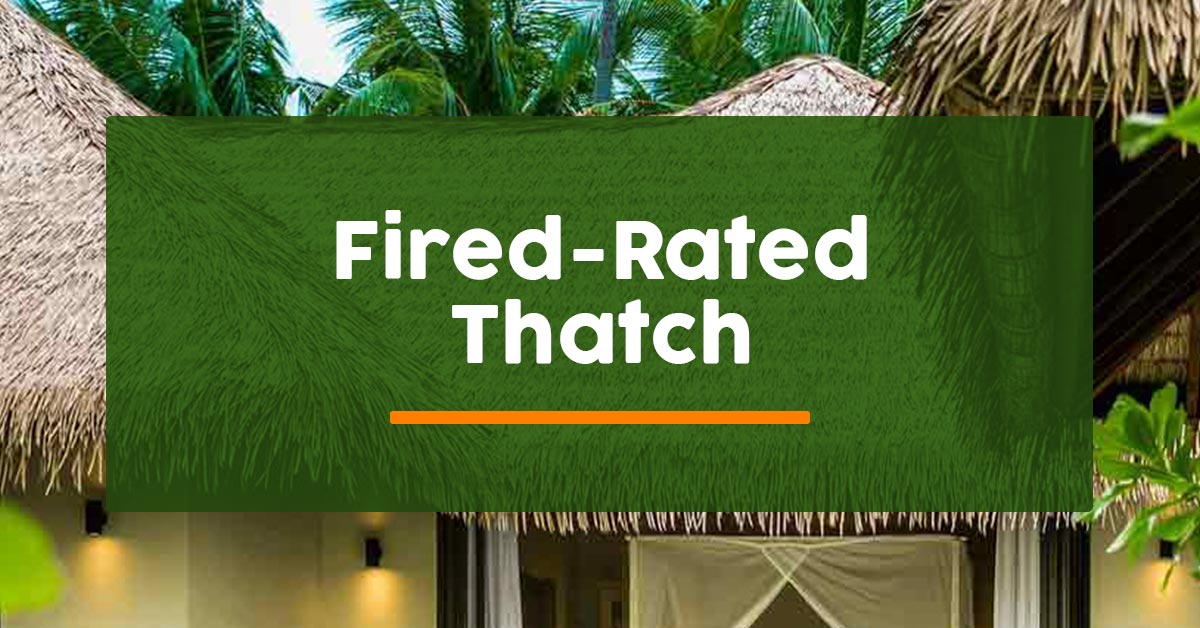 Fired-Rated Thatch
Thatch can be a combination of vegetation, including straw, water reeds, grass and palm branches. Thatch can be beautiful roofing and act as a layer of insulation for structures. This type of roofing is popular in many commercial industries such as spas, zoos, resorts, cabanas and restaurants because it creates an elegant and tropical atmosphere that is fun, relaxing and authentic.
Although gorgeous and scenic, natural thatch is susceptible to fire that can spread quickly due to its dry construction. To keep your visitors, animals and business safe from fires, invest in fire-rated thatch that will reduce the chance of fires.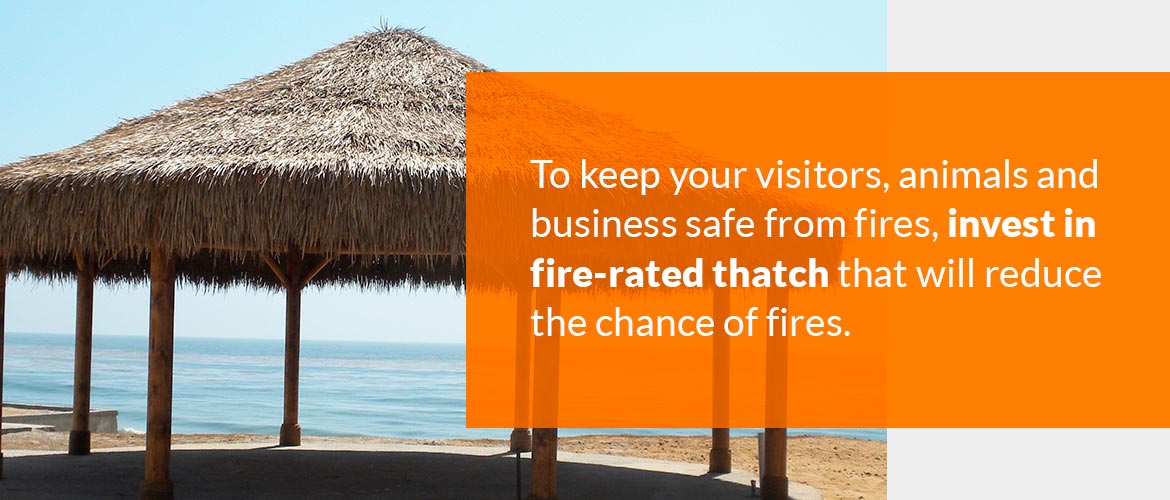 Importance of Fire-Rated Thatch
Fires of any size can jeopardize a business and injure those in the immediate area, while large fires can promptly spread to communities, forests and environments. Fire-rated thatch will provide a safe environment for people and animals.
Benefits of fire-rated thatch include:
Protecting people and animals from flames
Reducing the chance of a fire on site
Minimizing the spread of flames to other facilities
Keeping fires contained
Protecting communities, forests and other environments from the fire spread
Giving fire professionals and authorities time to reach the scene in the event of a fire
The Difference Between Fire-Rated and Fire-Resistant Thatch
Fire ratings describe how likely an object or material is to catch fire. The ratings range from A to C, with Class A materials least likely to contribute to a fire. Class A materials do not catch fire easily and are not likely to contribute to the spread. Natural thatch is not fire rated and can catch and spread fire more easily.
Fire-resistant roofing materials will also minimize fire threats, but you may not always know how effective the material is. Although a fire-resistant material may provide some protection, choosing a fire-rated material will increase your security and promote safety.
To receive a Class A fire rating, the thatch you use for your business must meet a flame spread index, a numerical value reflecting how the material reacts under certain conditions. A standard fire test evaluates the material's performance based on:
Flame penetration
Flame spread over the surface of the roof
Likelihood of the roof covering becoming dislodged and generating embers
Materials that fall into Class A do not burn well and are highly unlikely to contribute fuel to a fire.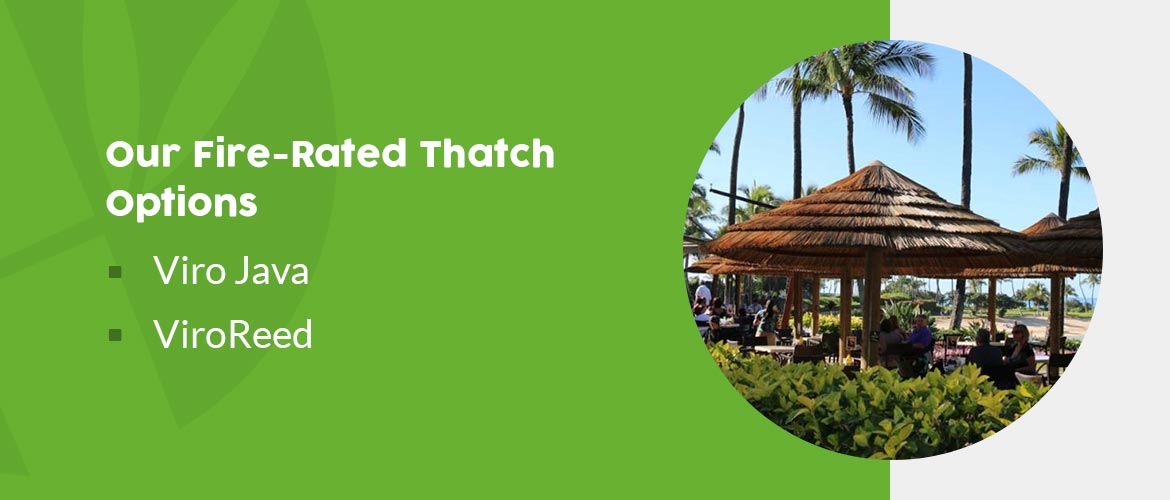 Our Fire-Rated Thatch Options
At BYXS Commercial, our fire-rated products meet the requirements of flame resistance as established by the standard fire test. They receive an inherently flame retardant (IFR) rating, meaning the materials are naturally and permanently flame resistant without adding flame retardant chemicals.
We offer two fire-rated artificial thatch options for your business.
Viro Java
Made to appear like Mexican Palm thatch, you can use Viro Java to create tropical environments with fire retardant thatch crafted from non-toxic and environmentally friendly materials. With this synthetic thatch, you can achieve a tropical paradise with easy-to-install thatch that won't fade. Use Viro Java on umbrellas, roofs, palapas and canopies to complete your tropical experience with flat panels and coned tops.
Viro Java fire-rated thatch panels are Class A rated, waterproof and mold resistant. They also come with a 20-year warranty.
Viro Reed
Viro Reed synthetic thatch panels mimic African Cape Reed thatch. They have a stunning natural appearance and are perfect for the hospitality and zoo industries. These panels are waterproof and will not shed, mold or rot. Your guests can relax in comfort under Viro Reed because this thatch resists birds, insects and termites. Viro Reed is available in standard, starter and eaves panels, as well as top cones.
Our fire-rated Viro Reed panels meet Class A fire rating standards to maximize fire safety. They also come with a 20-year warranty.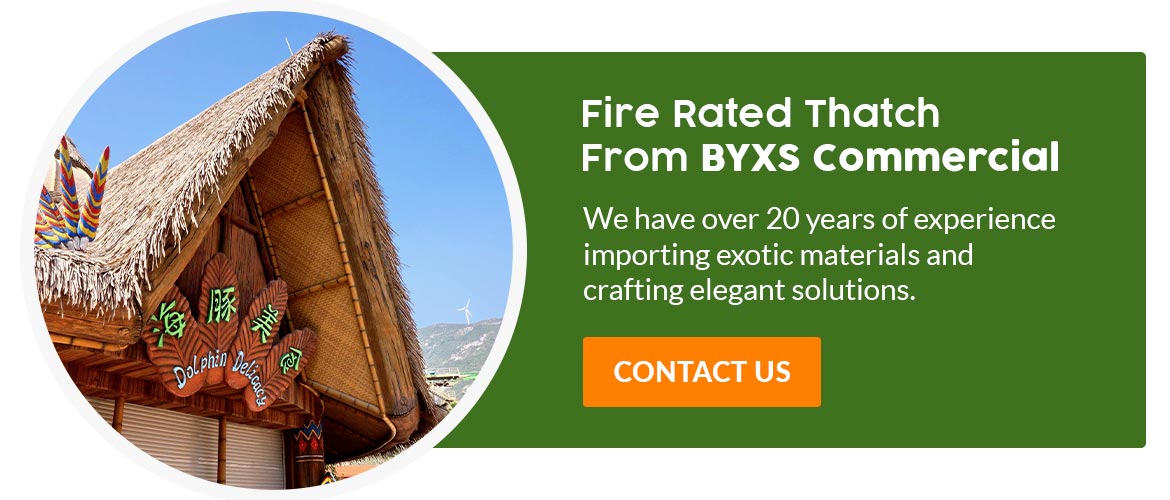 Fire Rated Thatch From BYXS Commercial
BYXS Commercial is the nation's top themed material supplier, and our products create authentic themed environments. We have over 20 years of experience importing exotic materials and crafting elegant solutions.
With our Class A fire-rated thatch materials, you can create beautiful getaways and scenic views. We're a leader in our industry and are committed to delivering the highest quality solutions to your business. Our thatch expert staff can assist you in finding the best fit for your needs. Contact us to speak with a specialist who can help access blueprints, provide product specifications, or supply samples.