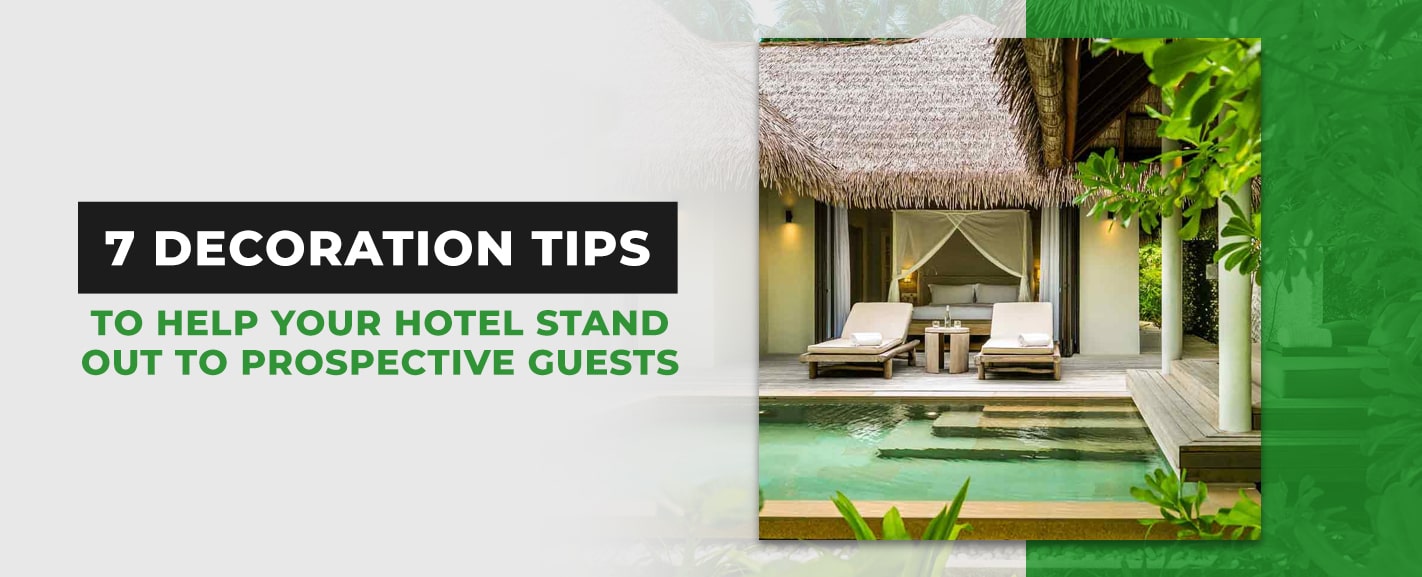 Designing your hotel involves using innovative decorative strategies to rise above the challenges the hospitality industry faces regularly. When clients visit your hotel, they expect a unique experience that provides them with a break from their everyday lives. With luxury hotels and Airbnb rentals on the rise in your local area, you may want to consider how to attract more prospective hotel guests.
Give your guests a memorable stay at your exotic location with tropical decor and eco-friendly materials to make them want to return soon. This hotel design style guide provides a list of eight tips for hotel decor to help you learn how to stand out to prospective guests.
Design Solutions for Hotels in Popular Areas
Considering how to improve the hotel atmosphere helps you stay resilient in the face of obstacles in the hospitality industry. Decorating a hotel lobby and other parts of your facility can help address the following challenges.
Rising Above the Competition
Besides your facility, there might be hotels, Airbnb locations and other short-term vacation rental spots in your local area. Airbnb vacation rentals create an increase in competition for guests and change your guests' expectations when they stay at your location. These facilities offer amenities that make them attractive to guests at a lower price than most hotels can afford to provide.
To stand out to prospective guests, highlight the unique amenities and services only your specific location can offer. Your dedicated staff can provide on-demand services while your guests stay safe and comfortable in their rooms. Since your amenities are on the property, your guests can conveniently walk to use them. It's helpful to emphasize your amenities' consistency and comfort and services that set your facility apart from an Airbnb or other vacation rental.
Creating a Unique Guest Experience
Your hotel can also stand out among the competition in your local area by highlighting the unique experience you provide to your guests. Those who visit your hotel seek an experience rather than a stay. They want to connect your property to a positive emotion that encourages them to return or tell their friends and family about their time in your hotel. You'll have to think about ways to personalize the services you provide your guests and create a service-centric culture among your staff.
Think about what it might look like to give your guests a memorable, unique experience. Consider ways you can connect your hotel to the local community. You may want to get your supplies and food from a local specialty vendor or offer information about local spaces, events and exhibitions.
Developing a Sustainable Company
Guests are becoming more concerned about investing in companies that use sustainable, eco-friendly materials and reduce their impact on the environment. To attract more people to your facility, make sure your hotel decor ideas include environmentally friendly products and practices. Highlight the recyclable building design materials and cleaning methods you use to reduce waste and conserve energy. You can also demonstrate your respect for Mother Nature by including recycling bins and signs throughout your facility to help your guests preserve water and resources through eco-friendly cleaning services.
Retaining a High-Quality Staff
Your staff is a vital component of your company, helping you achieve all the practices that give your guests a unique experience. Recruit new and retain existing staff to train them effectively and offer them a fun, rewarding place to work.
You can find high-quality, reliable employees through employee referral programs and meaningful conversations during interviews. You can also keep your trustworthy employees through training programs, clear career paths and upskilling. Meeting your employees' needs lets them perform better and be more motivated.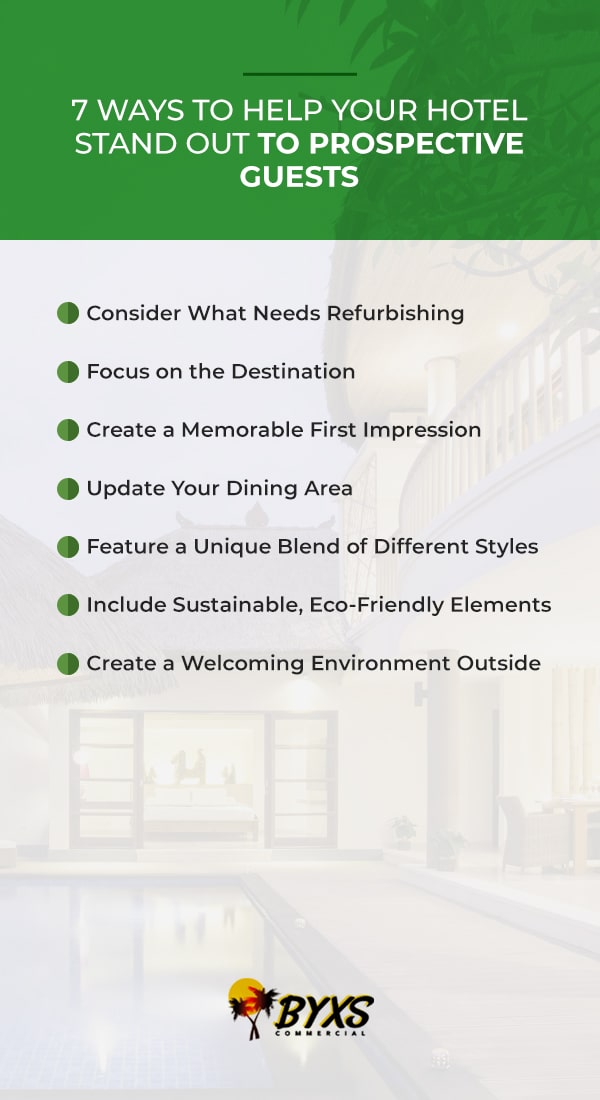 7 Ways to Help Your Hotel Stand Out to Prospective Guests
Designing your hotel will help attract potential guests and encourage them to write positive reviews about their experiences. Explore these hospitality industry design ideas to help your facility stand out among the competition.
1. Consider What Needs Refurbishing
Refurbishing your hotel involves replacing the dull and worn-out parts of the lobby, shared common areas and guest rooms. The simple task of adding a fresh coat of paint to these spaces can make your facility look more updated. You may also want to install new decorative elements or replace your light fixtures to create a more inviting atmosphere.
Walk around your hotel and look for components you need to replace. Think about how these updates will better meet your guests' needs and provide them with a pleasant experience when they come to visit.
2. Focus on the Destination
Designing your hotel with a tropical theme allows your guests to have a remarkable experience in your surrounding environment's exotic atmosphere. They'll enjoy the natural beauty you've included indoors that complements the breathtaking views in your area. As you market your hotel, highlight the destination to immerse your guests in the local culture instead of merely passing through your location. Consider how you can incorporate decorative elements from your tropical area through indoor and outdoor decor.
Besides tropical decorative elements within your hotel, you should also include fun, relevant destination activities that all who visit will enjoy. Your guests want to learn about the community so they can explore, whether on vacation or a business trip. Exceed their expectations by providing information about nearby activities and hosting themed events at your hotel. Reach out to your local tourism board for information about upcoming events and try to incorporate activities that complement their schedule.
3. Create a Memorable First Impression
Designing your hotel to stand out to prospective guests involves knowing how to decorate a hotel lobby. This space is the first impression your guests have of your facility. It's helpful to have a unique, multi-use space in front of your hotel that creates an inviting atmosphere and draws people inside. Consider how you can designate areas for casual and formal meetings, separating these into zones with indoor fencing and screening to promote privacy.
You can impress your guests as soon as they walk into your hotel with bamboo wall cladding or natural matting and boards. This greenery promotes bringing the outdoors inside. You may also want to use natural light in your design to brighten up your space and keep your plants and tropical decor fresh and engaging.
4. Update Your Dining Area
Your restaurants and dining areas are popular areas for guests to spend time together outside their rooms. While effective service is essential for creating memorable guest experiences, you may also want to consider ways to update its design through your tables, dishes, utensils and chairs.
You might like the idea of creating a cohesive look throughout your hotel by matching this area with your lobby design. Think about installing bamboo walls or decorative natural plants around the dining area you included in the lobby. Instead of having a bland or utilitarian dining room, brainstorm ideas to make it creative and unique.
5. Feature a Unique Blend of Different Styles
Are you wondering how to improve your hotel atmosphere? Give your guests a pleasant, memorable place to sleep and unwind by combining modern and traditional elements in each room. Guest spaces with a calm, relaxing design encourage those who stay at your hotel to tell their friends and family members about their experience.
Use a light, subtle color for the walls and balance them with simple patterns, materials and textures in the decor. Consider installing generously sized windows to let in natural light and blackout curtains to help guests sleep better at night. Making these minor changes will have a tremendous impact on the overall experience of everyone who stays at your hotel.
6. Include Sustainable, Eco-Friendly Elements
Your hotel will stand out to prospective guests when you use long-lasting, recyclable materials that can accommodate your hotel's local climate and weather conditions. Integrating eco-friendly bamboo fencing for hotels, eucalyptus and 100% recyclable high-density polyethylene (HDPE) into your design demonstrates that you care about the environment and the impact your facility can have on the surrounding area by reducing waste.
Besides bamboo and eucalyptus, you may also want to decorate your hotel with plenty of light and ventilation to improve indoor air quality and create a desirable atmosphere for your guests. You may also want to include natural plants that boost your guests' moods and enhance the tropical design.
7. Create a Welcoming Environment Outside
Guests who visit your hotel want to see a consistent design throughout your whole property, including the exterior. You can make your guests' outdoor experience more pleasant with natural and synthetic thatch umbrella kits that offer shade on a hot day.
Set up comfortable seating and abundant lighting around your round umbrellas so your guests can continue talking and socializing even after the sun goes down. You may also want to put a natural or synthetic thatch roof over your outdoor bars and eating areas to complete your design and protect your guests against the sun.
Benefits of Bamboo and Tropical Decor for Hotels
As you explore the hotel design ideas available to you, consider decorating your facility with a tropical theme to provide your guests with a relaxing, inviting environment. Bamboo products and tropical decor from BYXS Commercial can add value to your hotel in the following ways.
Creating a sustainable environment: Bamboo, eucalyptus and natural thatch are all sustainable, recycle materials that can accommodate indoor and outdoor applications. These evergreen plants grow back quickly and offer your hotel an authentic look with natural color variations. Even artificial thatch with HDPE is 100% recyclable and provides a high strength-to-density ratio, enhancing your decor's durability against the elements. You and your guests can have peace of mind about your hotel's impact on the environment by investing in eco-friendly materials.
Protecting your facility from fires: BYXS Commercial offers fire-rated products to help your facility comply with state and federal fire-rating requirements. We apply fire retardants to our natural materials to enhance their effectiveness against potential fires. We'll help you find the right products for your durability and fire-rating needs, depending on your local area's codes and regulations.
Offering a vast selection of design options: Plenty of indoor and outdoor applications for bamboo at hotels can inspire creativity in your design, such as posts, fencing and wall cladding. You can use thatch on palapas, overhangs, roofs and umbrellas. Our products come in various colors, patterns, textures and sizes to give your hotel an authentic-looking tropical environment. We treat all our products with natural processes that make them suitable for indoor and outdoor use.
Providing a unique experience for your guests: Tropical decor offers an exotic appearance that will impress your guests and encourage them to book another stay at your hotel. Our natural matting and boards contain banana leaves, Hala leaves and bamboo poles to design your hotel with a better appearance than what you might find on the market today. For a unique color selection, you can also get synthetic matting available in herringbone, bandeau and basket styles. Our VIRO Dome also provides a one-of-a-kind shelter for your guests against the elements.
Protecting your decor against the elements: Eucalyptus is comparable to pressure-treated pine, so it's durable enough for you to use as building beams and poles for outdoor structures. The HDPE we use to create our synthetic products resists corrosion, pests and deterioration for additional peace of mind for exterior applications. These synthetic products allow you to create an authentically tropical environment outside while having sturdy, enhanced protection against the elements, such as heat, humidity and rain.
Highlighting the tropical theme's natural beauty: Natural and synthetic tropical products offer a selection of beautiful colors and textures that create an eye-catching design for your hotel. Depending on the bamboo species or thatch materials you choose, you can find decorative elements with a consistent look or authentic imperfections to enhance your facility's aesthetic. Designing your hotel with these unique, eye-catching products will help you stand out among the competition and attract people to visit.
Contact BYXS Commercial to Get Started Decorating Your Hotel
BYXS Commercial has the tropical decor you need to enhance your hotel's appearance and attract potential guests. You can request samples of the products you're interested in to see them in person and compare them with your hotel's existing decor. Besides our durable, aesthetically pleasing products, we also offer a wide selection of services — such as design assistance, quantity take-offs and installation — to help you with the whole process of implementing your tropical decor ideas for hotels.
When you're ready to start making some changes to your hotel to create a unique experience for your guests and give them an updated, sustainable place to unwind from their everyday lives, you can reach out to us online or call us toll-free at 877-625-9001.