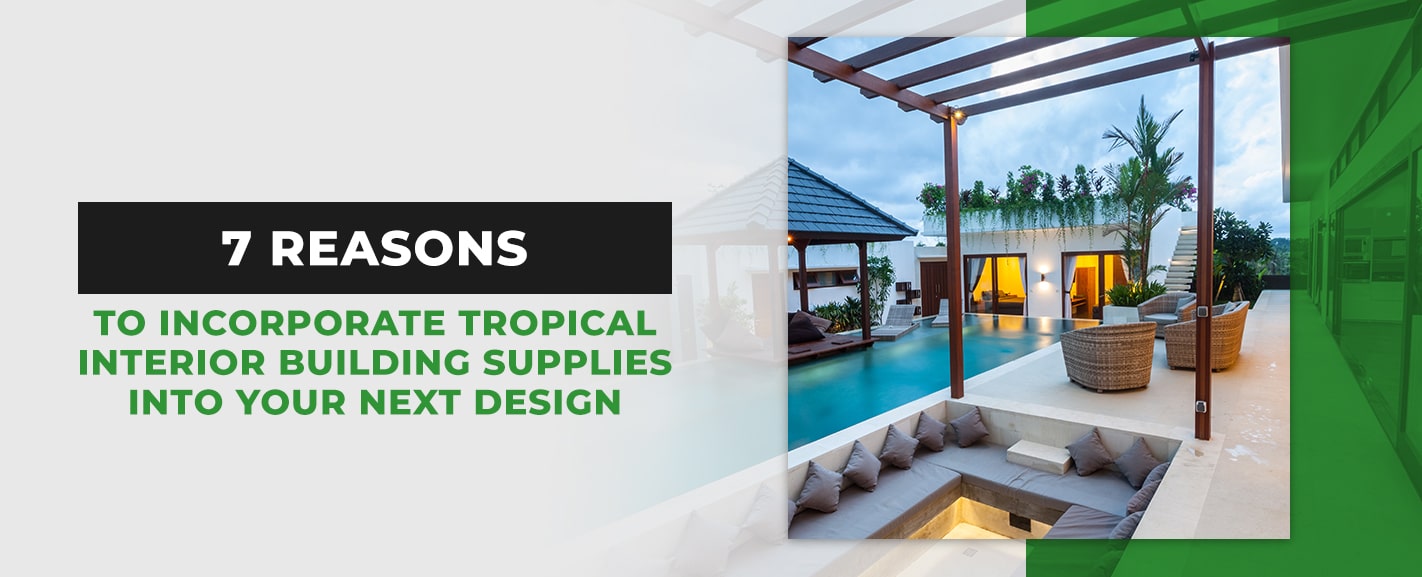 When designing a hotel, office, restaurant or store, it's helpful to think about meeting your clients' needs and providing a safe, comfortable environment for your employees. Consider integrating tropical interior building supplies into your renovation project to give all who visit your facility a relaxed, laid-back atmosphere to enjoy.
Our beautiful, reliable tropical-themed decor can enhance your commercial space by creating an excellent first impression for your guests. Follow these commercial building design ideas for remodeling your office, retail location, restaurant or hotel.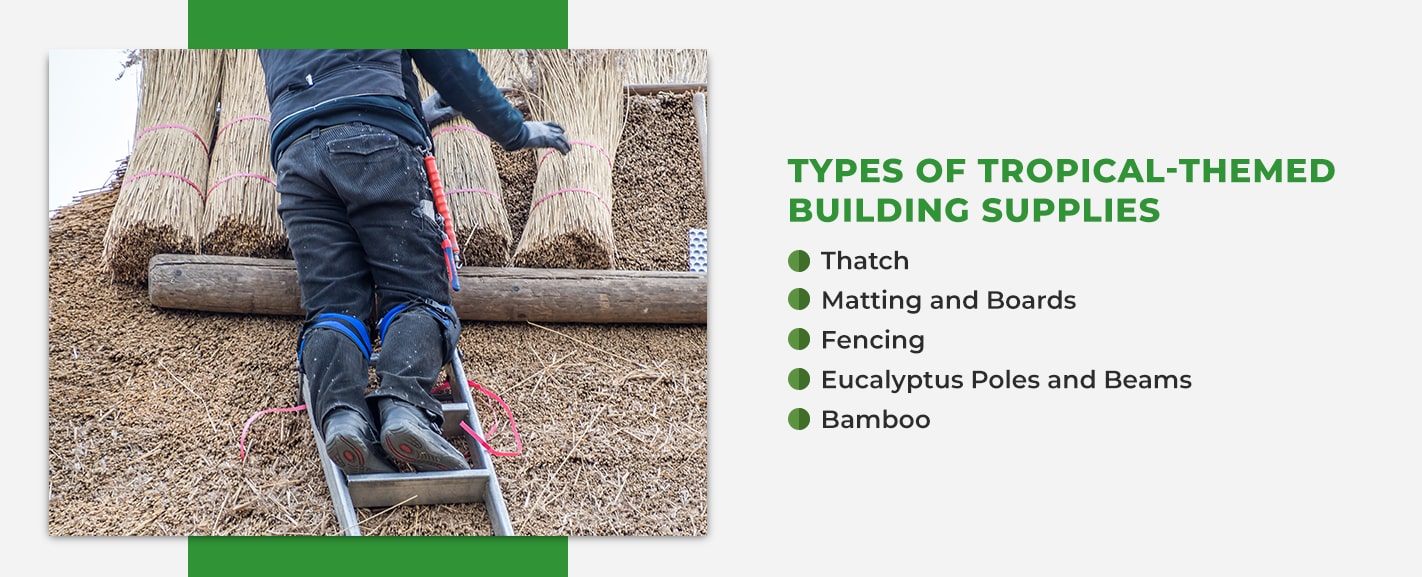 Types of Tropical-Themed Building Supplies
Natural, eco-friendly materials add more value to your commercial space than enhancing its aesthetic. Due to their tensile strength and authentic tropical appearance, they can also offer structural support for any functional elements your business needs. These products allow your store, office, hotel or restaurant to be more suitable for the traffic flow and daily tasks you experience. Consider the following interior applications for tropical building supplies and how they can add value to your company.
Thatch
You can use natural thatch as roofing for interior kiosks, bars, dining areas or check-in desks in your authentically tropical design. This material comes in several species — such as Tahitian thatch, Mexican Palm thatch and African Reed thatch — that each offer distinct color variations and strengths to suit your commercial space.
Thatch eventually develops a unique tint due to sun exposure, giving you a truly one-of-a-kind product for your design. Since it's a sustainable, durable plant that regrows quickly, using this product in your renovation plans allows your business to conserve resources over time.
Matting and Boards
Natural matting and boards can decorate your walls, columns, ceilings and fixtures to give your business a laid-back, relaxing atmosphere. These lightweight, flexible products are also suitable for room dividers that provide some privacy for your guests and employees and establish designated areas throughout your interior space.
Bac Bac matting features a contrasting blend of rich brown and warm beige to enhance the aesthetic of your authentic, sophisticated restaurant or office. You can also stain or whitewash Woven Bamboo Plywood or Lauhala matting for a distinctive, contemporary appearance.
Fencing
Most natural fencing and screening materials are suitable for exterior and interior use, but some are more effective for decorating the inside of your commercial space. You can use it as privacy screening or a framed room divider to control pedestrian traffic flow or create a designated area within your office, hotel, store or restaurant.
Rich, brown willow fencing is relatively easy to install over your interior walls, ceilings, columns or cabinets. Reed fencing contains freshwater reed grown along riverbanks and wetlands, offering you an authentically tropical design. In its natural state, it has honey and light beige tints with speckles of mocha. You can also stain or whitewash it to give your reed fencing a unique, modern look.
Eucalyptus Poles and Beams
Eco-friendly, natural eucalyptus grows naturally and maintains its integrity over time. Poles and beams made from eucalyptus are comparable to hardwood and other milled products because of their strength. You can use this plant product as a substitute for pressure-treated pine to build structural columns and beams for your tropical-themed environment. Its natural durability and appearance allow it to be ready for your construction project without refinishing it.
Eucalyptus beams are naturally brown and may also have a silver sheen with beige accents. Besides structural support, these products can also serve as fencing, privacy screening, dividers or handrails to control traffic flow in your commercial space. You can also get creative and use them as decorative chair rails, trim, retail fixtures or wainscoting.
Bamboo
Natural bamboo poles and slats have become the symbol of tropical decor applications for businesses. You can use them inside your commercial space to decorate your walls, ceilings and retail fixtures. They can also serve as sturdy handrails and dividers that allow your guests and employees to move around your facility safely. At BYXS Commercial, we offer the following types of bamboo products for your tropical design.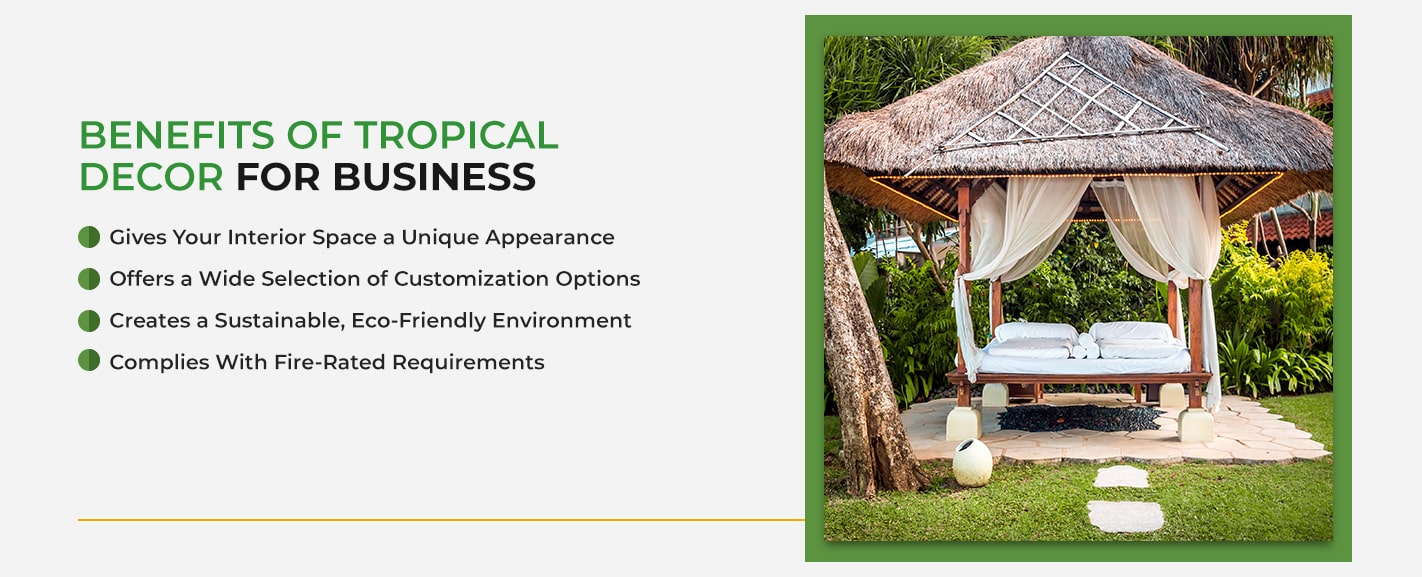 Benefits of Tropical Decor for Business
As you design your tropical commercial space, it's best to use high-quality, visually appealing decor. Island-themed products can add value to your business in the following ways.
Gives Your Interior Space a Unique Appearance
Compared to traditional decor products, tropical materials offer different sustainable plant species with authentic color and texture variations to help your business stand out against the competition. Even though our products are naturally beautiful and distinct on their own, you can also sand, finish or whitewash them to create a contemporary look that might suit your brand better. Our products are ideal for several different applications in your commercial space to keep a consistent tropical theme throughout the whole design.
Offers a Wide Selection of Customization Options
The natural building materials we provide on our site come in various thicknesses, colors and strengths to suit your commercial space. Whether you need privacy screening for a high-traffic area or wall coverings for your guest rooms, you can find the perfect products for your interior design applications.
You can request product samples to see how a specific item looks with your commercial space's existing decor and color scheme. Our team would be happy to offer design assistance to help you develop the ideal tropical environment in your office, hotel, store or restaurant.
Creates a Sustainable, Eco-Friendly Environment
Eco-friendly design remains trendy among business owners and customers today. Tropical materials such as bamboo, thatch and eucalyptus can help you attract customers and guests while reducing your environmental impact. Our recyclable products allow you to conserve resources as you design your interior space and demonstrate to your target audience that you care about the surrounding environment. As a result, you and your guests can have peace of mind about the products you use to create an authentically tropical space for them to enjoy.
Complies With Fire-Rated Requirements
Our interior tropical building supplies are durable to withstand the wear and tear that could occur inside your commercial space. We also offer fire-retardant applications for all our natural products to enhance your space's resistance to fires. When you reach out to us for design assistance or any other services, we can help you find materials that comply with local and industry regulations to keep you and your customers safe while providing a visually appealing tropical interior look.
7 Reasons to Incorporate Tropical Building Supplies Into Your Next Design
Your company would benefit from designing your interior space with tropical building supplies for the following reasons.
1. A Tropical Theme Promotes a Relaxing Atmosphere
A tropical interior commercial space evokes feelings of going on a vacation to an exotic island. Bamboo poles and other natural products can improve mental and emotional health, making all who visit your facility feel more relaxed when they walk inside.
You can give your guests a pleasant experience as they gather with their friends, co-workers and family members by incorporating sustainable, fresh decorative materials in your commercial space's interior design. These components can also help your employees feel more content by creating an atmosphere that helps them do their jobs better.
2. Tropical Decor Comes in Various Styles
The tropical decorative theme encompasses a wide selection of colors, textures and patterns. Consider whether you want to design your commercial interior space with a traditional or contemporary aesthetic to express your company's brand best. You can create an authentic tropical environment with bright, colorful plants and a thatch roof, or you can have a more subtle design with eucalyptus fencing or handrails. Tropical design is flexible enough to bring your vision of your commercial space to life.
3. A Tropical Design Brings Many Different Colors Into a Commercial Space
Eucalyptus, bamboo and thatch products include distinct color variations that help create a memorable experience for the people who visit your commercial location. Consider designing your business with plants and decorative elements with bright colors to remind your customers of the sunset, palm trees, the beach or exotic flowers to enhance the tropical theme. Choose from various bamboo or eucalyptus wood species and finishes to complement your color scheme and provide a visually appealing place for your clients and employees to relax and spend time together.
4. Tropical Decor Involves the Use of Natural Greenery
A tropical commercial interior design features natural plants and eco-friendly products that improve your business space's atmosphere. Greenery is rewarding for the environment and offers many health benefits to your customers and employees. Bamboo, eucalyptus, thatch and natural green plants enhance indoor air quality by removing toxins from the air, creating a safer environment for everyone who visits your facility. They also help reduce stress and boost your customers' and staff members' moods to provide a more pleasant experience for your customers.
5. Tropical Interior Building Supplies Bring the Outdoors Inside
Your tropical commercial space highlights the natural beauty of the outdoors with sustainable plants and bamboo products throughout the design. Whether you own a beachfront property or your site sits along a busy urban street, you can give your customers and employees the feeling of being on vacation with tropical interior building supplies. By decorating with trees and other decorative components safe for indoor use, you can provide your guests with a comfortable space away from unpleasant outdoor elements and changing temperatures.
6. A Tropical Theme Includes the Use of Natural Light
Part of bringing the outdoors inside involves installing plenty of windows that let plenty of natural light into your commercial space. Bringing in the sunlight outside your property can help your facility save money on energy costs by reducing your need for artificial light fixtures. It also helps your employees be more productive and happier as they serve your customers. Your guests will have a pleasant, enjoyable experience when visiting your facility if you use natural light to enhance your indoor tropical environment.
7. Tropical Interior Building Supplies Promote Inspiration and Motivation
Designing your office or restaurant with tropical decor can help inspire and motivate your employees and guests. Giving your team members an eco-friendly, energizing place to work will help boost their productivity and get them excited about showing up to their jobs. You can retain your staff of high-quality employees and help them achieve their career goals while meeting your guests' needs. Besides your employees, your customers may also come to your commercial space for inspiration as they tackle their daily tasks.
Where to Buy Tropical Building Supplies for Your Business
BYXS Commercial is the place to find the right tropical interior building supplies for your business. Our team is happy to help you with your interior design project from start to finish. Besides our sustainable, sturdy tropical products, we also offer design assistance and installation services to guide you in figuring out how you want your office, hotel, store or restaurant to look. We'd love to share our years of experience in the tropical design industry as you create a memorable, delightful experience for your clients and employees.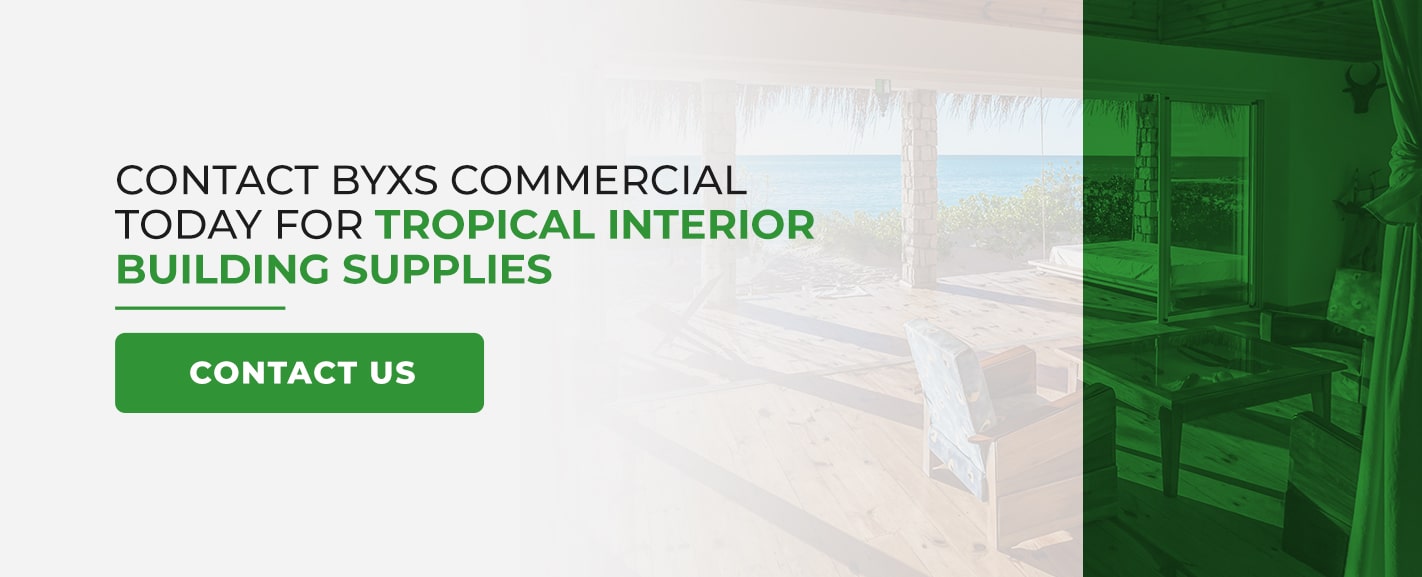 Contact BYXS Commercial Today for Tropical Interior Building Supplies
Whether you're a business owner or a designer in charge of renovating a retail space or office, you can order what you need for your tropical theme through BYXS Commercial. We're knowledgeable about our natural materials and would be happy to answer any questions you may have about including them in your design. We also offer quantity take-offs depending on your specified materials and blueprints. For more information about our products and services, you can speak with us online or call us toll-free at 877-625-9001.